If the previous Everspace 2 trailer for planetary combat whetted your appetite for the game, then this new trailer will make you outright hungry.
While the previous trailer was focused on revealing planetary combat, this one is here to tell us that the closed alpha is hitting Steam on June 15th. While that's perhaps the most pertinent bit of news here, the trailer is still worth a watch: somehow, it's even sexier than the one that popped up yesterday.
Drifting through Everspace
Before we go any further, though, let's have a word about the closed beta. I think I can safely assume that this'll be handed out to Kickstarter backers of that particular tier, but it's less likely to be available to the general public. They may be additional sign-ups available, but there's no information on that just yet. Nonetheless, if you're thinking this is Early Access or something, it's almost certainly not that.
That aside, this trailer basically shows more Everspace 2. As I went over yesterday, this is a departure from its predecessor. Instead of a linear roguelite experience, Everspace 2 is an open-world sandbox RPG/space dogfighter where you can trade, fight, and upgrade at your leisure. There's plenty more planetary combat to be seen here, but there are also a lot of glimpses at the utterly sumptuous space environments.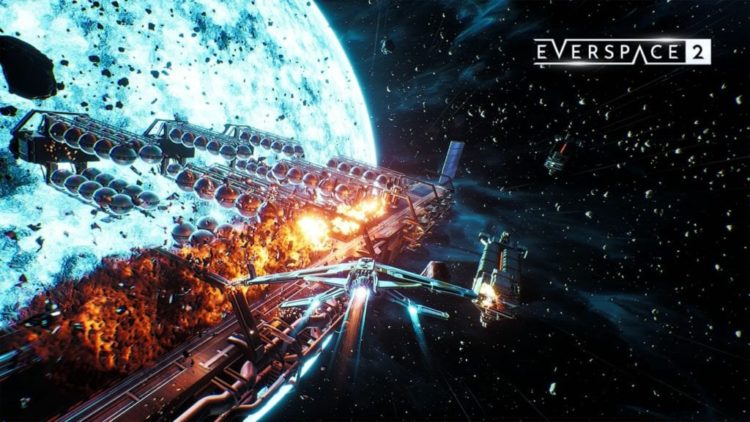 I remain curious about how much of a role the planet surfaces will have in the gameplay, but I'm hoping that — even if not fully fleshed out as massive planetary locations — they'll have some heavy impact. I'd like to see landing pads, loot to find, and mining to do. I strongly suspect that'll be the case, but I suppose we'll find out when the closed alpha hits on June 15th.
Closed alpha aside, Everspace 2 itself is due to hit Steam Early Access towards the end of the year. You can wishlist it now for a reminder.