There will be a survival mode beta coming to Fallout 76 this March, Bethesda revealed. The mode will still include the same quests and events, albeit with enhanced dangers. Not only will every player outside of teammates be hostile, but this mode will remove all attacking restrictions. West Virginia is getting a whole lot scarier.
The mode itself is separate from the vanilla Fallout 76 adventure. You can either start off with a fresh-out-of-the-vault character, or you can drag in an existing one kicking and screaming. However, any progress made in either mode will reflect off one another. In other words, it's one character stretched over two modes. So if you're planning to take on your fellow man in survival mode, you'd better come strapped. Otherwise, you're going to burn off the precious ammo you'd saved to shoot, I don't know, bloat flies in the main campaign of the game.
Survival mode won't include PvP invites. All players will be hostile and, most likely, gunning for your lizard kebabs, if you get my meaning. There will no longer be any restrictions to PvP combat, which means low-level players will hitherto be known as fresh meat. However, Bethesda is still keeping level scaling the same, which it hopes will grant fresh characters some semblance of a fighting chance. But if you die in PvP, you no longer get the option for a revenge spawn. You have to revive at either your campsite or back at Vault 76.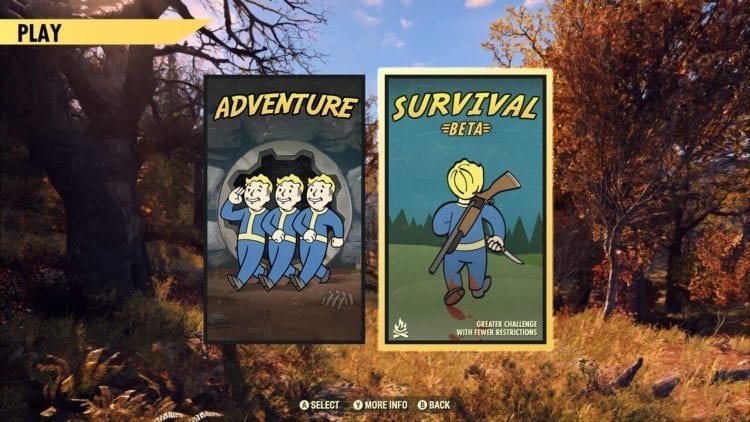 Reap The Whirlwind
So, what does all this chaos and strife reward you? Better stuff, naturally! To draw players in, Bethesda is planning to offer greater goodies for those who seek out the danger. Killing players will reward double the caps. There will also be a chance that killed players will drop Aid or additional items along with the other crap they're carrying. Bethesda plans on experimenting with PvP rules, and it will make changes as the beta progresses. There will also be leaderboards so you can see just how you rank among players and friends.
It's still too early for Bethesda to announce the official start of the beta. All we know is that it will be implemented sometime this March. The company plans on releasing more information on the beta soon. For more, check out the blog post.