There are two Mindfuck puzzles in Far Cry 6 Vaas: Insanity. One is Checking Out, which takes place in a creepy hotel. The other is The Balancing Point, which you can do in an odd-looking residence (none other than Dr. Earnhardt's house). Here's our Far Cry 6 Vaas: Insanity DLC guide to help you with The Balancing Point Mindfuck puzzle.
Note: For more information, check out our Far Cry 6 guides and features hub. You can also take a look at the full world map and other points of interest.
How to complete The Balancing Point Mindfuck puzzle in Far Cry 6 Vaas: Insanity
Mindfuck: The Balancing Point is found at the northern section of the map, near the Safe House – Beach, Gun Show: SMG, and Citra's Trial – Pain. As you get closer, you'll see several sharks floating in the sky (that's just weird). Then, once you reach the manor, you'll notice why it's even odder: not only is it upside down, but the underwater portion mirrors the one that's on the beach.
Our goal here is fairly simple. We need to find three medicine left behind by Dr. Earnhardt. These have a golden glow/sparkle surrounding them. But, the doors themselves are locked. Here's what we need to do:
Because the houses mirror each other, any door you unlock will also do the same for its mirrored counterpart. Likewise, any window that's open in the house above the water will also be open underwater.
You can head to the side of the house and swim through the underwater window. This leads to the dining room where you can pick up one medicine.
Open the front door there, then swim back up. The front door in the "normal" house should get unlocked, too.
Head to the dining room to pick up the second medicine. There's also a collectible diary page here.
The room upstairs is locked, so swim back down to find an open window on the underwater version's second floor. Unlock the door there.
Go back upstairs and enter the room to pick up the third medicine.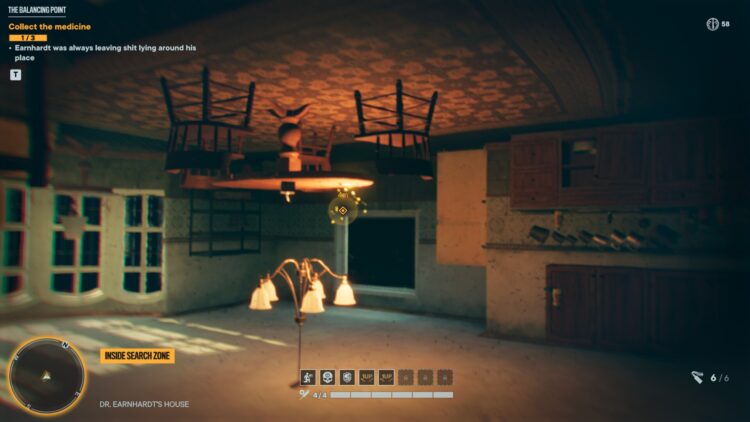 When you're done, go to the greenhouse and place all the three "medicine" that you've acquired in the dishes. You can pick up or sell the temporary Powers that appear.
A vision will also play. Watch it in its entirety to get the Addict vision collectible. That's it, you've just completed The Balancing Point Mindfuck in Far Cry 6 Vaas: Insanity.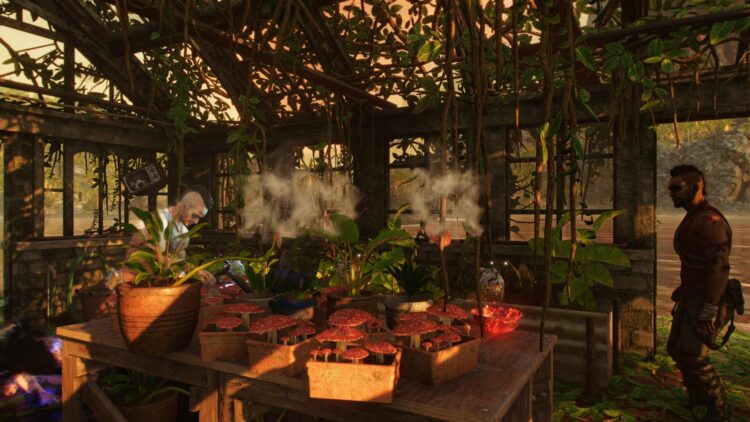 ---
Far Cry 6 is available via Ubisoft's store and the Epic Games Store.