Developer Miracle Games just released a first look trailer for its upcoming shooter, Farlight 84. It's a mix of fast-paced gunplay with tactical combat. However, it's tough to tell exactly what type of game Farlight 84 is if you just watch the trailer.
That's because it's not just trying to be one thing. Farlight 84 is a shooter that also has MOBA elements, as well as crafting and vehicles. It's a battle royale, but that's just one of the action-packed game modes you will be able to play.
Farlight 84 features a cast of colorful and diverse characters, but they don't just look different. Each character has a distinct style and set of abilities. So, it looks a bit like Fortnite, but it has a range of heroes, like Apex Legends or Valorant. Whatever it is, it looks exciting.
What in the world is going on?
The world of Farlight 84 has been overrun by a deadly zombie cyber-infection. Anyone who contracts the virus gets turned into a Zomborg. However, your primary job isn't to beat down waves of the undead, although that could be one of the other game modes Miracle Games mentions.
Players will battle it out across a range of playgrounds of destruction to scavenge what they need to survive. The main game mode is a 40-player battle royale. While scavenging is part of survival, it's also a way to stand out and show your individuality. In Farlight 84, you will be able to personalize and upgrade your various weapons and equipment. Your arsenal comes from the "Big Four" weapons manufacturers and each one provides some funky weapons that pack a surprise punch.
You can also make use of the quirky modes of transportation. You'll be blasted into the battlefield through a cannon. Once there, you can drive multi-legged vehicles, boost with jetpacks, and hop around with bouncing boards. All of these things will expend energy. Getting to grips with Farlight 84's unique energy system is another element of the gameplay players will need to master.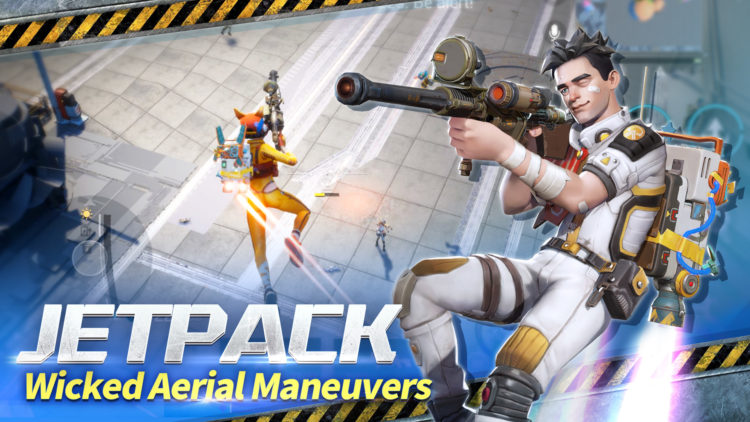 Victorious players will earn building materials, which can be used to construct and improve their refuges. These social areas are where you can hang out between matches. Each player can build their own and have friends over to chill with while waiting to head out and do battle.
Farlight 84 will launch into early access in 2021. Until then, try not to get infected.