The MMORPG arena is a tough one to crack. The long-standing stalwarts like Blizzard's World of Warcraft and Square Enix's Final Fantasy XIV are still holding out, while the rest of the pack continues to figure out just what sticks. Suffice to say, there is not a lot of time in a day to devote to several MMORPGs. Amazon Game Studios is certainly trying to muscle in with its own project, New World, and things are not exactly going smooth. The game was delayed to 2021 back in July, but the extra time has allowed the developers to do a little more. So what are the devs doing, you might ask? Well for starters (and almost like a genre staple), fishing is now a thing in New World.
As shared by PCGamer, a new alpha build of the game gave players a preview of a new zone called Reekwater. This is where the new fishing mechanic has been added. While the original plan for New World did not involve the art of catching fish, the delay changed those plans.
In a bid to strengthen the content for both the midgame and the endgame, the fishing mechanic caught on.
Angler's dream
Players can expect to find over 40 different species of fish in New World. Of course, they are ranked and tiered by rarity. There are even unique monsters that await you in the depths. You just need the right bait for whichever prey you wish to hook. There are also differences between fresh and saltwater fish, so aspiring anglers will need to adjust accordingly.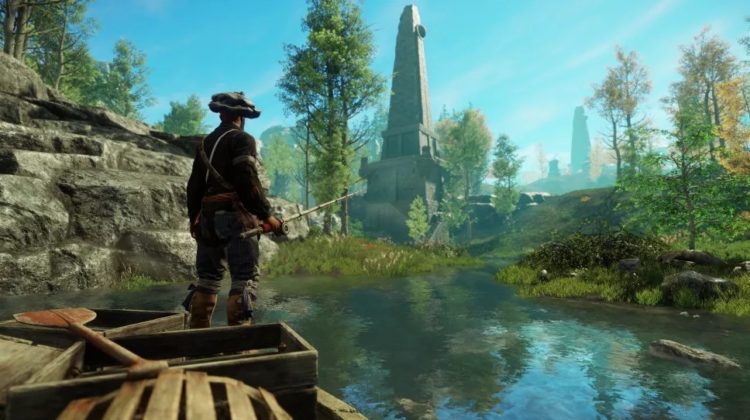 As for the act of fishing, it is quite a straightforward minigame. It will require you to manage your line's tension. Reeling, stopping, reeling, and stopping until you have the fish in your hands. To make things even more interesting, New World fishing spots will feature certain hotspots where rare fish are more easily found. The hard part is landing your bait in the very spot.
Will the addition of fishing make New World a contender for the MMORPG throne? We have no idea, but more content certainly helps. There are obviously more important aspects to the game, and we will have to wait until early 2021 to make a judgement.