Ah, Fortnite, the king of crossovers it seems. We've had Marvel events, DC superhero game modes, and actual live concerts in-game, along with a few video game crossovers too. Now, Epic Games and Rocket League developer Psyonix have teamed up for another event that brings the Fortnite battle bus to Rocket League.
The new vehicle addition is part of an upcoming event, called Llama-Rama. There's going to be a bunch of challenges to complete in Rocket League over the course of the event that will unlock rewards in both Rocket League and Fortnite. This may well be the most in-depth event to take place in Rocket League yet, especially as the rewards span two different games.
Of course, this shouldn't be too surprising. Epic Games recently acquired the Rocket League developer, so it's safe to expect more of this in future. Psyonix has never given a new car body away as part of an in-game event, so if these close ties with Epic mean more rewards for us, then bring on the crossovers!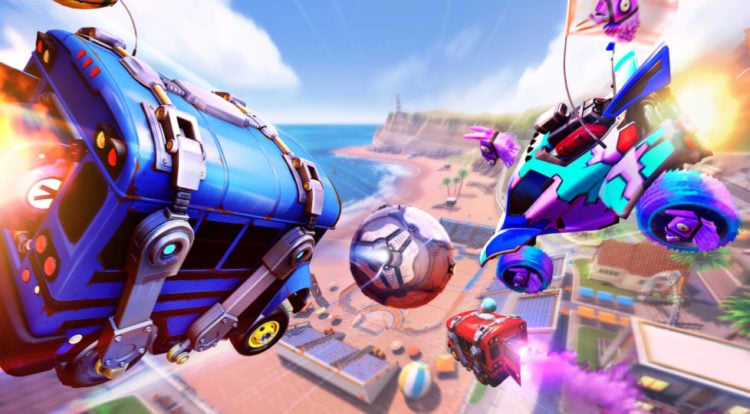 A new challenger
The challenges play out across five levels in Rocket League. The first challenge simply requires you to play an online match. For doing so, you'll get your hands on the Llama Flyer Antenna in Rocket League, and the Rocket League Spray in Fortnite. Move on to winning a casual match, and you can grab the Top Llama Topper in Rocket League, and the Holodata Drop Contrail for Fortnite.
From there, the challenges get a little tougher. Get five goals, saves, or assists with that topper you just earned, and you'll get a Loot Llama Octance Decal for your Rocket League vehicle, along with the Rocket Groove Music Track in Fortnite. Challenge Four needs five wins in any mode using your new Octane decal to complete, netting you Llama Wheels in Rocket League, and a new emoticon in Fortnite.
The final challenge asks you to don your Llama Wheels and get MVP in an online match. The top level reward for doing so is a bunch of battle bus content in Rocket League, and the Octane RL Backbling & style variant for Fortnite. The Llama-Rama event runs from September 26 to October 12 in Rocket League.