The age of the automobile has finally descended upon Epic Games' Fortnite. The Joy Ride 13.40 update is now finally live, and the world of Fortnite will definitely change substantially. From adding vehicles, radio music, and the standard bug fixes, there is plenty to look forward to with the Fortnite Joy Ride update. Here are all the relevant details that you need to know going in.
First, the big addition is, of course, the cars. Cars are now drivable thanks to the Fortnite Joy Ride update. The new Whiplash vehicle is set to add even more mobility to Epic's colorful world. In order to get your hand behind the wheel, scour the gas stations around the island. That is where drivable cars and trucks are likely to spawn. There is also fuel consumption to consider, so knowing where gas stations are will be helpful in your joy ride. Gas cans will work as well.
Cruising with tunes
Each vehicle will obviously handle differently, so pick your choice of ride carefully. Just remember, your vehicle can be an instrument of death, both for you and your opponents running about. Two new skins have also been added to celebrate this new addition with the Fortnite Joy Ride update.
Radio stations are now also part of your experience. Music from the Party Royale mode can be heard as you cruise around, so at least your drives are not without some tunes. Epic Games will likely use this feature to do more music collaborations with artists down the line.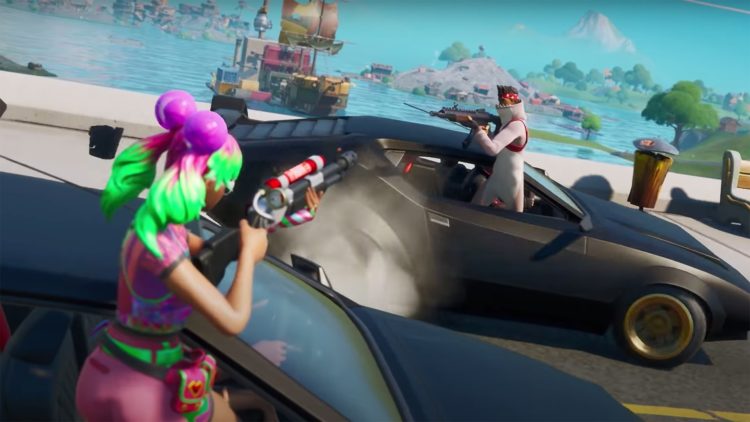 As for the nitty-gritty that is bug fixes in the Fortnite Joy Ride update, players can expect to see the XP bar displaying the right info moving forward. The Bottomless Chug can be now picked up while recharging even if it is dropped by another player. The "deal damage within 10s of landing from the Whirlpool at Hydro 16" challenge has been rectified to be "at The Yacht." Another challenge, "Land at Frenzy Farm/The Yacht and finish Top 25," will now work for duos and squads players.