With Fortnite Chapter 2 undergoing its second season, players of Epic Games' battle royale have plenty of new content to experience. The new v12.10 patch continues the game's slew of content, too. However, fans are always impatient about what comes next, and we now have an idea. Thanks to Fortnite data miners, it would appear that more fun stuff is incoming.
Info foraging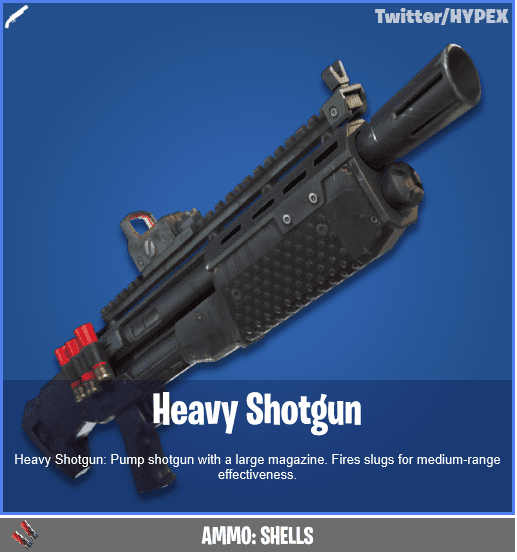 Several dependable data miners have already gone through the Fortnite files and shown off their findings. From HYPEX, we have screenshots that show off a new heavy shotgun, which is a "pump shotgun with a large magazine" that "fires slugs for medium-range effectiveness." There is also a new and legendary version of the scoped assault rifle. The files also reveal a "fast firing automatic SMG" known as The Pepper Sprayer.
If this is for BR then here are the sounds..
Description: "A fast firing automatic SMG that is most accurate when fired in short bursts." pic.twitter.com/PQ7LnE1QSa

— HYPEX – Fortnite Leaks & News (@HYPEX) March 3, 2020
Then there's a selection of new skins, Deadpool-inspired backbling, new weapon wraps, the Prime Moves emote, and an assassin variant of the Fishstick. Lucas7Yoshi, another data miner, added to the list of findings with new gliders, emotes, and pickaxes. New skin variants, such as the Dark style, have also been uncovered.
variants and weapon wraps pic.twitter.com/1BtmlSZaKf

— Lucas7yoshi – Leaks (@Lucas7yoshi) March 3, 2020
More ways to play
A new limited-time mode may have also been discovered by FireMonkey. Looking through other Fortnite files, this data miner discovered an Infiltration mode that could be related to the Faction Wars. Of course, in addition to the new "Spy/Infiltration LTM strings," new cosmetics and forageable items were found as well.
"Gather Intel to unlock new levels of Spy Tech to use during Operation matches!" FireMonkey shared. "Choose Ghost or Shadow to secretly support while playing Operation matches this season!"
It is not just the battle royale mode getting some love. The PvE component of Fortnite, Save the World, will apparently receive new additions as well, including a spy llama.
While all of these remain as mere speculation until officially confirmed, the track records of these data miners are solid. It certainly seems to suggest that Fortnite players have a lot of content to look forward to in the near future.