You know the drill by now. Epic Games adds new Quests into Fortnite each week and it's your job to complete them in exchange for XP and other rewards related to the seasonal Battle Pass. This quest is no different. You'll need to find some artifacts for this one at Coral Castle and Stealthy Stronghold in order to check this Quest off the list of things to do before the current season of Fortnite ends. Seeing as there are only five more days until the aliens presumably invade, you better get busy. This guide will make short work of this quest for you.
You'll only need to collect one artifact from each location in order to complete this quest. Seeing as these two locations are adjacent to one another on the map and that there are three artifacts at each location, you should be able to find the necessary artifacts and knock this one out in one match if you're lucky.
Where to find the artifacts at Coral Castle
The artifacts at Coral Castle are themed after the Atlantis-style architecture, so you'll be on the lookout for gold/bronze fish statues with a glowing blue aura about them. Any statue will do.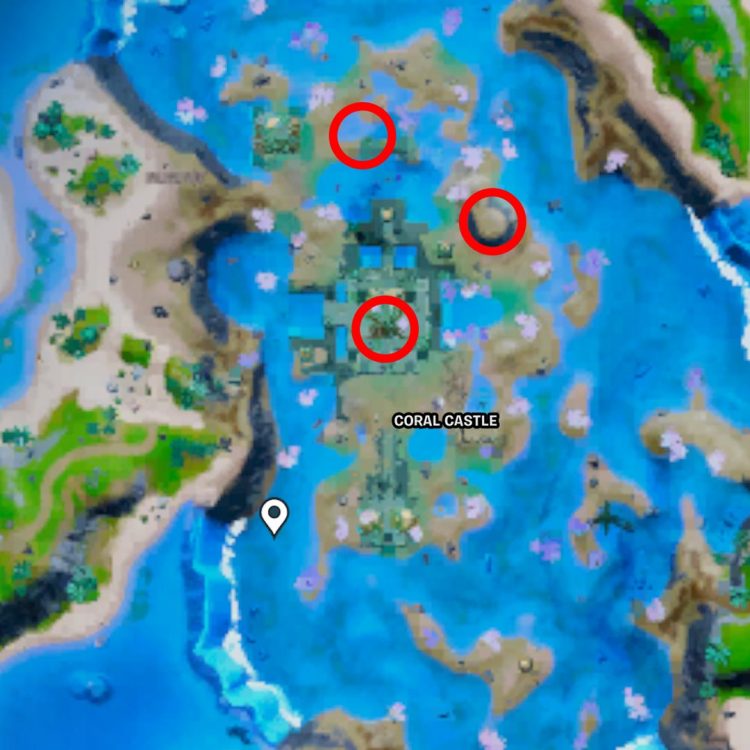 Where to find the artifacts at Stealthy Stronghold
The artifacts at Stealthy Stronghold are seemingly themed after Mayan statues of the serpent god Quetzalcoatl and look like they also belong in the Sunny Steps location from the Chapter 1 map. You can find them in the temple ruins around this location. These artifacts will glow blue just like the others.
Completing this challenge is easy enough, and maybe you can throw on your favorite Lara Croft skin while you're at it. You'll receive 24K XP for finding these artifacts at Coral Castle and Stealthy Stronghold, putting you one step closer to finishing up your Battle Pass for Season 6 of Fortnite. For more help with Fortnite Quests and information about other content, check out our Season 6 Primal guides and features hub.