Following this month's Vaults of the Ancients content drop, there is more for players to look forward to in Rare's Sea of Thieves. This weekend, players will be getting a free Ori and the Blind Forest-inspired Ancestral Ship Set for Sea of Thieves to celebrate International Talk Like a Pirate Day. That day falls on September 19. All you have to do is spend some time watching some streams from September 19 to 24.
Sea of Thieves Partner streamers will be taking to the high seas over the weekend. Players looking to snag the free Sea of Thieves Ancestral Ship Set just need to log at least 30 minutes of viewing time each day from September 19 to 24 to get the loot. Do make sure your Twitch and Sea of Thieves accounts are linked beforehand. This way, you can ensure you will benefit from  Twitch Drops.
A marathon
Rewards will be rotating at 5 AM ET each day. So if you want to make sure you get the whole set, be sure to tune in every day for at least 30 minutes. If you are done watching, there is also plenty to get up to in the game itself. From September 18 to 21, Sea of Thieves will be rewarding players with double gold and reputation rewards. If you have been feeling the pirate itch, you can get in as well at a 30% discount on Steam. The Microsoft Store, on the other hand, will have a 50 percent discount.
The latest Sea of Thieves update adds man's best friend to the game. Three dog breeds can now be found in the game, together with outfits and emotes. Ships will also have special spaces for your dog to rest. Head over to the Pirate Emporium and become a new pet owner.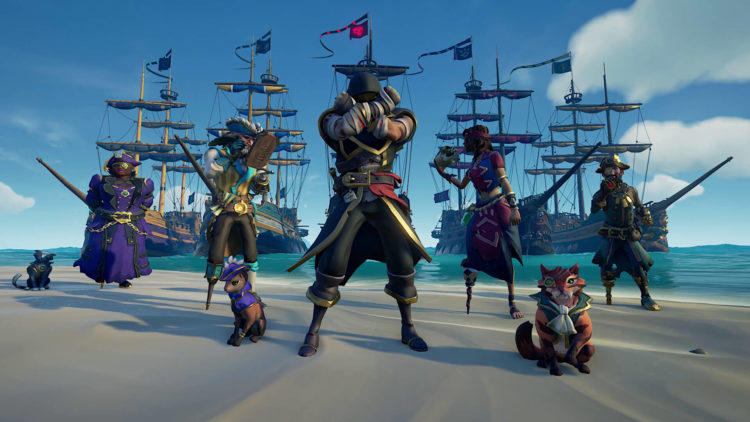 The Black Market will also see some new stock, so be sure to swing by. Players can also see new gameplay improvements and bug fixes. Islands banners now take up less screen space, and an Emissary Ledger meter will show how much you have contributed to the ledger whenever you go to trade. The appearance of certain loot items on the ground may also change to optimize performance. Their appearance will return to normal once you pick them up.