The Gears of War series has always been aesthetically astounding — that is, if you're a fan of brown. Jokes aside, the games, powered by the Unreal Engine, have often among the best looking, graphically, every generation. Naturally, you would expect that the upcoming Gears 5, gorgeous in its own right, will give your gaming rig the business. Well, you'd be wrong. The system requirements for Gears 5 are actually quite kind. In other words, if you're still rocking that aging GTX 970, you'll still be able to chainsaw enemies with the best of them.
The minimum required specs for Gears 5 look like a blast from my past. You'll only require an Intel i3 or AMD FX-6000 series CPU to run it at the lowest settings. I used to run with an FX-6300 back in the day — before I knew better. For the GPU, the minimum specs require either an AMD Radeon R9 290 or RX 560, or a GTX 760 or 1050.
However, it's the recommended specs I find comforting. Not everyone has been able to pick up one of the pricey RTX cards. Gears 5, though, will run just fine without one. For medium-range graphics, you'll need an AMD Ryzen 3 or Intel i5 CPU. For the GPU, you're looking at either the Radeon RX 570 or RX 5700, or a GTX 970 or 1660 Ti.
The highest graphical settings, which are being called "ideal specs," we see the requirements go up a good notch. For the CPU, you'll need an AMD Ryzen 7 or Intel i7, and for the GPU a Radeon VII or GTX 2080.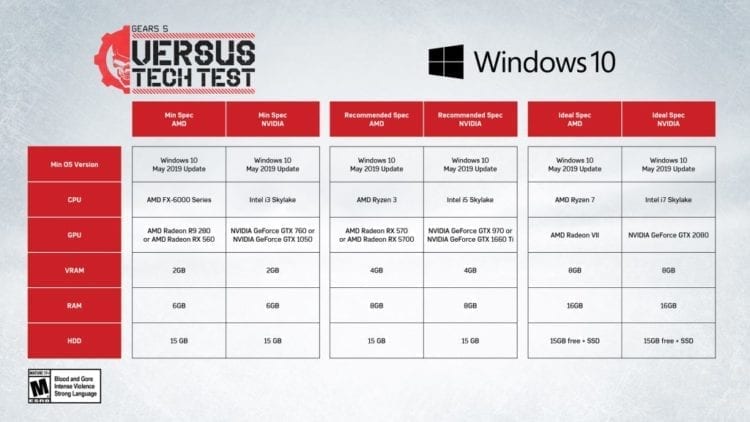 Revving that chainsaw
The requirements were delivered alongside news of the upcoming Gears 5 tech test coming soon. With that in mind, there is a small chance that the requirements could change for the actual game, but I doubt it will be by much — if at all.
Gears 5's tech test begins on PC starting on July 17. For more on the test, check out all the details here.