Ayaka's talent priorities
Let's discuss Ayaka's capabilities and talent priorities.
Kamisato Art: Kabuki – This denotes Ayaka's normal, charging, and plunging attacks. You'll want to level this up after maxing out her burst.
Kamisato Art: Hyouka – Ayaka spawns a glowing rune around her which will launch enemies and deal AoE Cryo damage. This has a 10-second cooldown. Her elemental skill should be last in the prioritization list as it's mostly used to generate energy or proc buffs, not something that you'll rely on for DPS.
Kamisato Art: Soumetsu – Ayaka's burst/ult spawns a "Frostflake Seki no To," a cyclone that moves forward and repeatedly slashes every enemy that's within its field. Cryo damage will be unleashed in each slash (over a dozen times), as well as the subsequent explosion once the effect ends. This ult has a five-second duration and 20-second cooldown. You'll want to prioritize Ayaka's burst talent to the multiple damaging hits that will occur, making it her top method of pouring out her DPS.
Kamisato Art: Senho – This is Ayaka's special movement ability. She'll dash and cloak herself, allowing her to move quickly while on water. Once Ayaka reappears, there's an AoE field that applies Cryo on nearby hostiles. Likewise, her regular attacks become infused with Cryo for five seconds. This talent cannot be upgraded. Still, the dash move is an effective means of freezing hostiles due to the aura and Cryo-infused attacks.
Note: Ayaka's talents require the Handguard materials and Teachings of Elegance booklets. The Handguard items are dropped by Nobushi samurai, and the booklets come from the new Violet Court domain. Higher levels of these talents also require the Bloodjade Branch dropped by Azhdaha.
Passive talents:
Amatsumi Kunitsumi Sanctification – After using her elemental skill, Ayaka's normal and charged attacks deal 30% extra damage for six seconds.
Kanten Senmyou Blessing – When the Cryo application at the end of Ayaka's Senho movement ability hits an enemy, she restores 10 stamina and gains an 18% Cryo damage bonus for 10 seconds.
Fruits of Shinsha – Ayaka has a 10% chance to receive double the weapon ascension materials that she creates.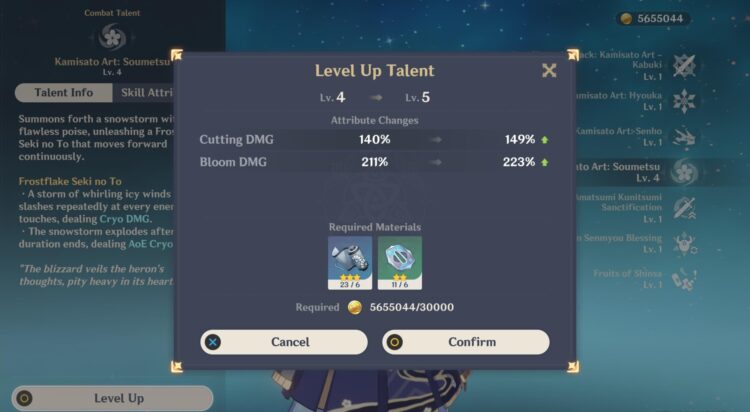 Constellations
Mind you, trying to unlock Constellations on 5-star Genshin Impact characters like Ayaka will be very expensive. Still, you can get some pretty powerful boons especially at C2 and C4. C2, in particular, turns her burst into a "shotgun" of sorts, technically providing a 40% increased damage.
C1: Snowswept Sakura – Normal and charged attacks have a 50% chance to decrease the elemental skill's cooldown by 0.3 seconds.
C2: Blizzard Blade Seki no To – Ayaka's burst spawns two Frostflake Seki no To mini-storms that deal 20% of the main whirlwind's damage.
C3: Frostbloom Kamifubuki – +3 levels for your elemental skill; maximum level is 15.
C4: Ebb and Flow – Reduces enemy defense by 30% for six seconds when they're hit by your elemental burst.
C5: Blossom Cloud Irutsuki – +3 levels for your elemental burst; maximum level is 15.
C6: Dance of Suigetsu – Every 10 seconds, Ayaka gains the "Usurahi Batou" effect which increases her charged attack's damage by a whopping 298%. This effect will expire when a charge attack hits a hostile, and the 10-second timer will restart anew.
All right, let's go to the next part of our Genshin Impact Ayaka guide to talk about her character ascension materials.