More mini-quests await you as we continue onward with the Windblume Festival. Here's our guide to help you with Act II of the Festive Anecdotes in Genshin Impact, including "Windbrew" and the "Missive of Cloud and Fog."
Note: For more information about the game, check out our Genshin Impact guides and features hub. You may also take a look at our version 1.4 overview and our main page for the Windblume Festival premier event.
Genshin Impact: The Windblume Festival's Festive Anecdotes Act II – Windbrew and the Missive of Cloud and Fog
To start Genshin Impact's "Missive of Cloud and Fog" quest, simply go to the Knights of Favonius headquarters. There, you'll meet Kaeya and Venti. Kaeya tells the Traveler to head to the tavern to find someone named Nimrod.
After returning to Kaeya, you're told to go to the cathedral where Jean and Lisa await. Go inside the cathedral to talk to Barbara (it seems Bennett's also there). Barbara receives a letter saying that something precious to her has been stolen. However, Rosaria assures her that her sister is safe.
The clue points to a marked location near Dawn Winery's Statue of the Seven. Go there and eliminate the treasure hoarders and interact with the dig site.
Anyway, apart from the "Missive of Cloud and Fog," Genshin Impact also has additional Festive Anecdotes for Act II. The first, "Flavor of the Month," is actually a surprisingly short quest. Simply go to Springvale and talk to an NPC who, in turn, will tell you to meet an adventurer on the eastern shore of Dragonspine. The adventurer there needs a fire, so use a Pyro skill. When you're done, you'll be given some chilled meat. Return to Springvale and give the woman 1x Dandelion and 1x Slime Condensate.
I guess this Festive Anecdote was meant to challenge newer Genshin Impact players who'll be trekking to Dragonspine for the first time. However, those who've fully mapped out and explored Dragonspine should be able to get this part finished quickly. Still, try your best to nullify the effects of sheer cold while you're in that region.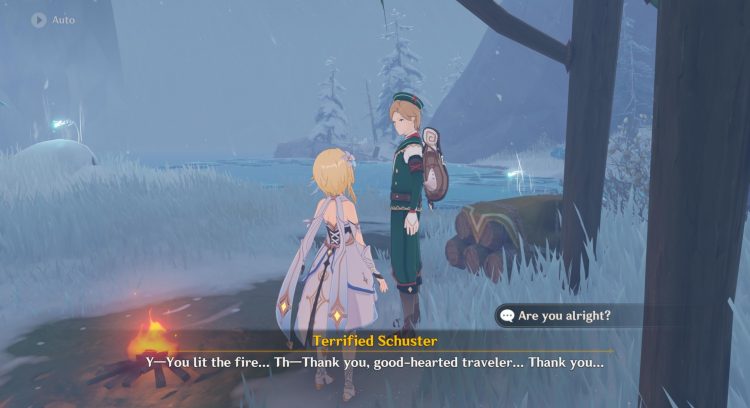 The other Festive Anecdote is called "Windbrew." Talk to Margaret in Mondstadt and she'll ask you to find 3x Dandelions or 3x Windwheel Asters. In my case, I picked the Dandelion option, and I had to travel to Starsnatch Cliff. The quest items you need to grab are unique and aren't related to any materials in your inventory.
Give Margaret the Dandelions and she'll provide instructions on how to concoct the Windbrew (you can see the correct order in the image below). Give the drink to various NPCs in the city to complete the quest.
---
Genshin Impact is available via its official website. For more information, check out our guides and features hub. You may also visit our version 1.4 overview and Windblume Festival main page.