Genshin Impact's version 2.2 update is now live, and that means we've got a lot of new stuff to look forward to. This includes the Fluorescent Fungus material, something that's only found on Tsurumi Island. Here's our Genshin Impact Fluorescent Fungus farming locations guide to help you obtain an ascension material used by Thoma.
Note: For more information about the game, check out our Genshin Impact guides and features hub. Likewise, if you want to chat and have activities with Thoma, you can take a look at his Hangout Event endings and choices.
Genshin Impact Fluorescent Fungus farming locations guide
Thoma isn't even available yet in Genshin Impact, but you're free to start farming for Fluorescent Fungus. As mentioned earlier, you do need to reach Tsurumi Island just to find these items. Here's the kicker: this zone is shrouded in dangerous mists, that straying too far will cause your character to get lost.
This can really hamper your exploration and farming. I would suggest completing the Through the Mists world quest first. This ensures that several areas in Tsurumi Island are clear of mists.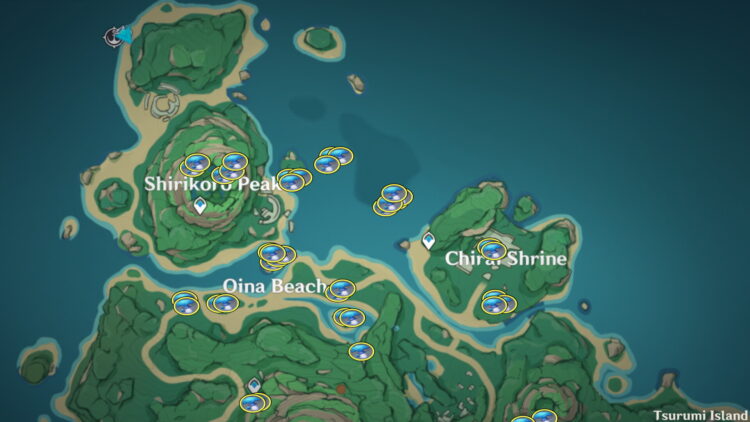 So, where exactly can we farm Fluorescent Fungus in Genshin Impact? Well, above, you can see a map of the northern portion of Tsurumi Island.
Below, you can see the southern section: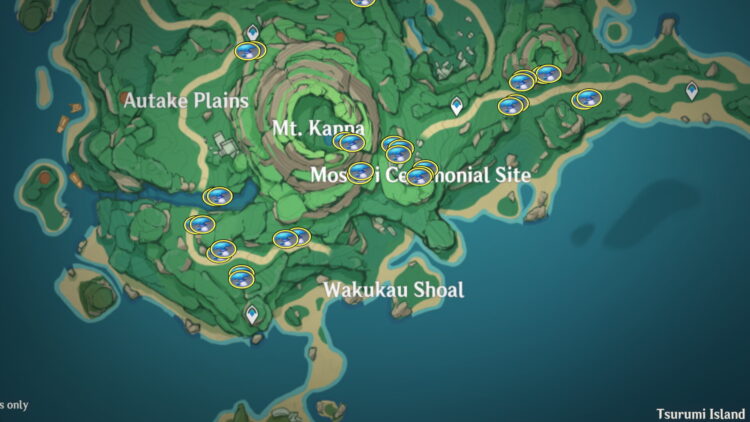 As you can see, several Fluorescent Fungus nodes are clustered together. In some spots, such as Moshiri Ceremonial Site and Oina Beach, you'd even find half a dozen of them that are close to each other.
Regarding other locations, you can't go wrong when checking out Chirai Shrine and the area south of Autake Plains.
Finally, you might've noticed some spots that make it seem as though the materials are floating on water. Well, they aren't. You'll actually want to complete the puzzles in the Shirikoro Peak area. These lead you to the ruins below the mountain and the underwater passageways leading to Chirai Shrine. There are also several clusters here.
In any case, try to farm a lot of Fluorescent Fungus in Genshin Impact even though Thoma isn't available yet. For those who won't pull for him, gathering these items is still viable. You'll never know when future characters would use the same ascension material.
---
Genshin Impact is available via its official website. For more information, check out our guides and features hub.