Meteorite Salvage: Activity locations and rewards
After finishing Star of Deceitful Dreams' starter quest, and once Mona has completed her channeling, you'll be able to do the core gameplay loop related to the Meteorite Salvage activity.
Speak with Mona and choose the "Astrology" option. Once you do, this will open Genshin Impact's world map and you'll see four meteorite locations.
Unlike the ones you've been looking for in the past couple of days (during Part I – Unknown Star), these meteorite chunks are larger and harder to miss.
By the way, if you already grabbed the seven meteorites in various locations during Part I – Unknown Star, its panel will no longer show these spots. However, more can be found scattered in several areas. These give you Fading Star's Might as well.
Check out our guides on the meteorite locations for Day 1 (Starfell Lake, Guyun Stone Forest, and Qingce Village) and Day 2 (Dadaupa Gorge, Yaoguang Shoal, and Jueyun Karst).
In any case, once you've reached a meteorite chunk's location, interact with it. You'll notice several difficulty options:
Party level 55 – 100 Adventure EXP, 15 companion EXP, and 35 Fading Star's Might.
Party level 65 – 100 Adventure EXP, 20 companion EXP, and 40 Fading Star's Might.
Party level 75 – 100 Adventure EXP, 20 companion EXP, and 45 Fading Star's Might.
It's up to you to decide what you wish to start. However, I would suggest picking the highest difficulty since this nets you the best rewards. You'll obtain more Fading Star's Might to spend in Genshin Impact's Unreconciled Stars event shop.
Regarding the activity itself, the process is still the same as what you've experienced while you were doing the introductory quest. Of course, mobs might be tougher depending on the difficulty.
Note: Unfortunately, you won't get regular drops from mobs while doing the event. It's a bit disappointing to take out level 75 Fatui assassins and agents only to end up without a single material. Looks like miHoYo's being stingy with these Genshin Impact drops.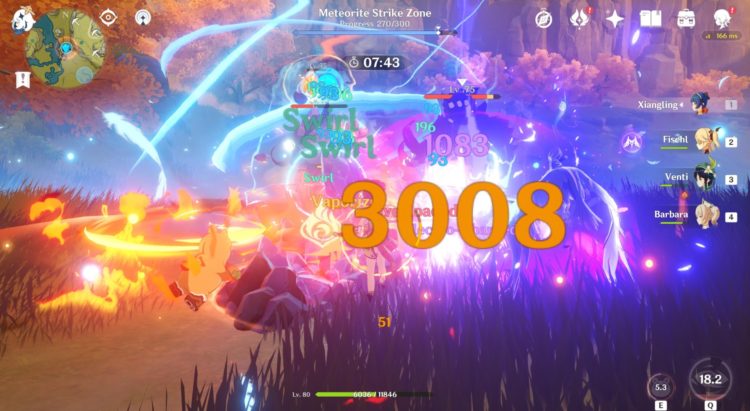 Likewise, you'll need to take note of your Original Resin. Each completion requires 20 Original Resin if you want to grab the rewards and cross out this tally.
After completing the Meteorite Salvage activities in the first four locations, return to Mona. Choose the "Astrology" option once more to see additional meteorite locations.
Then, continue doing the Meteorite Salvage runs and obtain those rewards. This is basically the gameplay loop for this phase of the event.
Furthermore, you should open the event panel. If you click on Star of Deceitful Dreams, you'll see a list of rewards that can be obtained depending on how many Meteorite Salvage activities you've completed. Each row nets you 30 primogems and 20,000 mora. But, the item rewards will be different:
5 completions – 10x slime secretions
10 completions – 10x stained mask
15 completions – 10x sealed scroll
20 completions – 10x sharp arrowhead
25 completions – 10x silver raven insignia
30 completions – 10x sergeant's insignia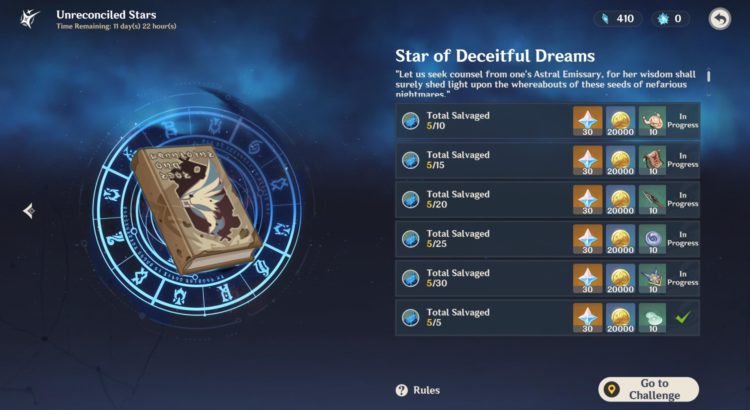 Apart from the activity rewards, you still have three Meteoric Wave sidequests. Like what you've seen during the three sidequests in Part I – Unknown Star, these have multiple steps.
Upon completing each sidequest, you'll get 20x Fading Star's Might, 40x primogems, and 25,000 mora.
Lastly, go open your Genshin Impact Battle Pass and go to the weekly objectives. You can now complete the requirement to salvage a total of 18 Meteorite Remains (grants 2,250 Battle Pass points/EXP).
As for the other objective (Meteorite Cores), it looks like we won't be able to do this until November 23 when Unreconciled Stars Part III – Star of Destiny goes live.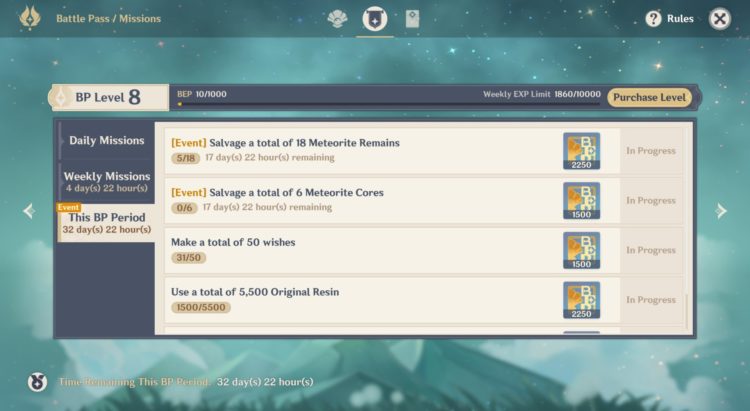 Anyway, let's talk more about the Meteoric Wave sidequests.