For ten days, the Genshin Impact Inazuma region will host a no-holds-barred tournament called the Phantom Flow event. There are also new missions for players to complete, and you'll also be able to compete for the chance to win rewards.
The master of Inazuma's Shinryuu, Shousen, is helping the Traveler host this imaginary tournament. It will run from 10 AM on August 20 to 03:59 AM on August 30. Those times are based on Server Time. In order to enter the fight, your Adventure Rank needs to be above 30. Plus, you need to have completed the Archon Quest "Ritou Escape Plan" and the World Quest "Chisato's Letter."
While the event is running, you will be able to follow the directions on your map get to the location where the challenge begins. It will require you to teleport.
Each day of the event will present new challenges for players to test themselves against. When new challenges unlock, the old ones will remain accessible. By the seventh day, all the challenges will be available. Presumably, they will remain open until the end of the event. Take a look at the image below to see the names and a teasing icon for all the challenges.
Are you up for the challenge?
Each themed challenge will test players with two different modes. The Shoden mode has three difficulty tiers, Normal, Hard, and Extreme, though you don't need to start on Normal. If you're confident you can hop straight into Extreme. Completing the challenge on a higher level will automatically complete the lower levels too.
The other mode, Okuden, is only unlocked once you complete a challenge's Extreme difficulty level on Shoden mode. You can see what the different levels require below. Extreme Shoden and Okuden sound like they will be tough.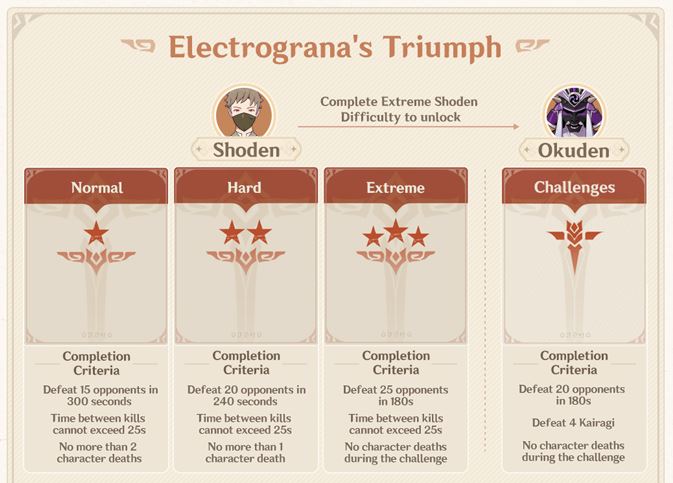 As you can see from the image, each challenge has three completion criteria that you need to complete in order to pass the challenge. Each challenge will also have a different monster list and Shinryuu mechanics to help you out.
The challenges may be tough, but you will be suitably rewarded if you succeed. The most coveted reward comes in the form of Primogems. But you can also hope to collect Hero's Wit, Mystic Enhancement Ore, Mora, and more.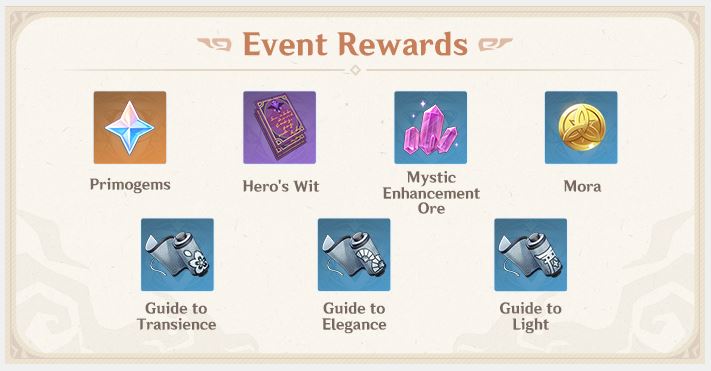 On the same day the Genshin Impact Phantom Flow event kicks off, miHoYo will also host a live stream to preview content and events for Version 2.1. So, try to find time in your schedule for that too.
Genshin Impact is a free-to-play action role-playing game. You can download it for PC through the Epic Games Store.