Wondrous Stick buffs and the Armory
In the original Theater Mechanicus event, the Armory panel was where you spent points to upgrade the towers that you've unlocked. Now, that's no longer the case since you don't even upgrade towers outside of regular gameplay. Instead, tower capabilities are upgraded (technically) via Wondrous Sticks which appear as cards.
You can open the Wondrous Sticks panel by pressing "T." Unlike the Mystic Arts that we've seen in the first iteration of the event, you can make your choices whenever you want, even while enemies are already spawning.
There are various kinds of Wondrous Sticks:
Mystic Sticks – Provide the player with buffs.
Courage Sticks – Provide buffs to your enemies.
Fortune Sticks – Provide the mechanicus towers with buffs.
Ominous Sticks – These are additional effects with a purple highlight. While they can provide a boost, there's also a detrimental effect.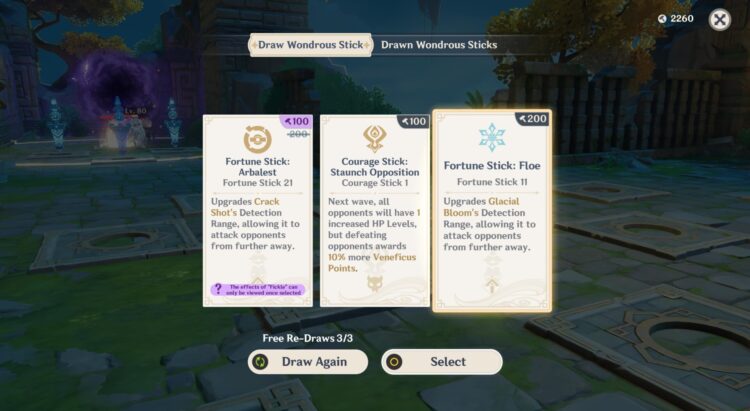 In general, you'll want to stack effects that can further boost specific towers. For instance, if you like the Hydro tower (or you're up against Pyro-shielded enemies), then you'd want buffs that'll improve its capabilities. Of course, due to RNG factors, you might need to reroll/refresh your options a few times.
Note 1: Three of these cards will appear at any given time. You're allowed three free rerolls to change the selections, and subsequent ones will cost Veneficus Points (it's even possible to cancel the effect of Ominous cards).
Note 2: Likewise, the costs of these Wondrous Stick cards/buffs are determined by rarity. The stronger the effect, the more Veneficus Points you'd need to spend to activate them.
Note 3: Lastly, some Wondrous Sticks pertaining to a specific tower element might not appear in certain stages. The stage info panel will always inform you of these instances so you can plan ahead. You don't want to build the same kind of tower several times, only to realize that you can't pick cards that'd buff its type.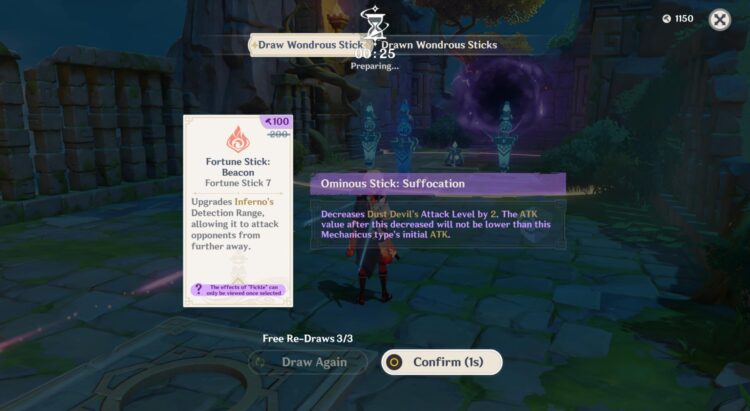 Oh, and I'd be remiss not to mention the Armory. You can open this panel while planning your next match. It'll show you all the towers that you've unlocked, as well as the Wondrous Sticks that you've encountered or selected while playing. It's a good way to review certain tidbits that you may have missed.
As an aside, I truly don't know how to feel about these changes. Some are streamlined, making the event more manageable. I mean, we no longer need to grind just to level up our towers. Unfortunately, the new changes mean that we'll rely on RNG instead (i.e., Wondrous Stick buffs and rerolls).
Anyway, let's talk about the challenges and rewards in the next part of our Genshin Impact Theater Mechanicus 2.0 – Stage of Wonders guide.