The Windblume Ode is a bow that you can obtain during Genshin Impact's Invitation of Windlume/Windblume Festival event. But, the question still remains: is the Windblume Ode a good or bad weapon?
Note: For more information about the game, check out our Genshin Impact guides and features hub. You may also take a look at our version 1.4 overview and our main page for the Windblume Festival premier event.
Genshin Impact: Obtaining the Windblume Ode bow
The Windblume Ode bow can be found in Genshin Impact's Windblume Festival event shop. It costs 700 Peculiar Collab Coupons. Meanwhile, each piece of its unique refinement material, The Visible Winds, costs 500 Peculiar Collab Coupons.
The idea is to complete Peculiar Wonderland challenges, as each run nets you 200 coupons. For this particular stage of the activity, you can amass up to 1,200 coupons, so just enough to grab the bow and one refinement material.
The perks
The Windblume Ode bow has elemental mastery as a stat. It also has a perk called "Windblume Wish" which increases a character's ATK by 16% for six seconds when an elemental skill is used.
Is the Windblume Ode any good and is it worth your while?
The perk might sound good on paper, until you realize that the duration of that effect is so short that it'd hardly make a difference. Indeed, 4-star weapons such as Rust, The Stringless, Prototype Crescent, and Blackcliff Warbow tend to scale better. These are also ideal for characters like Venti, Ganyu, and Childe/Tartaglia.
So, what niche does the Windblume Ode occupy? Well, assuming you don't have better weapons for your bow-wielding characters, then it can be a viable option. Plus, that perk is already activated as soon as you cast an elemental skill anyway (i.e., when you use Fischl and you summon Oz, the raven will get its ATK boosted as well). Likewise, you can complete Peculiar Wonderland challenges once the next stages become available in the coming days. You'll be able to amass more coupons for additional refinement materials, bringing up the ATK bonus to 36%. Sadly, the short duration of the effect would remain no matter how much you level the weapon.
Speaking of leveling, the Windblume Ode has boosts to its EXP gains while the Invitation of Windblume/Windblume Festival event is ongoing. The EXP boosts are akin to what the Festering Desire sword had during the "Chalk Prince and the Dragon" event in version 1.2. Sadly, that sword is one freebie that Genshin Impact players would be fond of and the Windblume Ode bow just pales in comparison.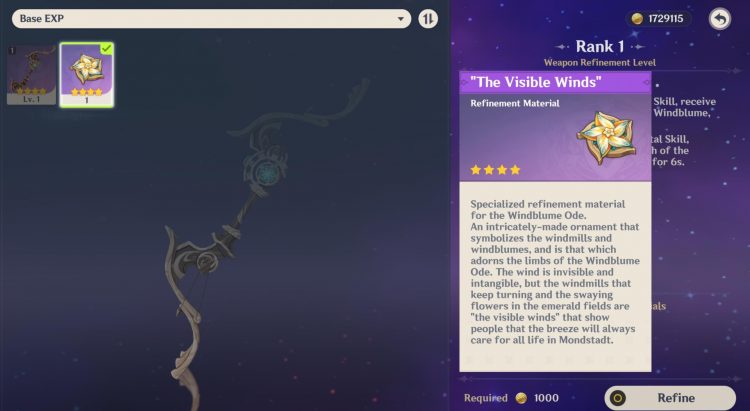 ---
Genshin Impact is available via its official website. For more information, check out our guides and features hub. You may also visit our version 1.4 overview and Windblume Festival main page.