There's a new browser-based event in Genshin Impact, and Travelers can share the entire prize of one billion primogems. Here's our mini-guide to help you with the Wish Upon a Lantern web event.
Note: For more information about the game, check out our Genshin Impact guides and features hub. You may also head to our Lantern Rite event guide.
Genshin Impact's Wish Upon a Lantern event
The moment you launch Genshin Impact, open the notifications tab to see a message about the Wish Upon a Lantern web event. If you click on the link, the event's page will automatically open on your browser. Just log in with your email and password, then select your server and character.
The first things you'll notice are the highlights. These are basically collections of your past exploits in Teyvat, from beating Stormterror and Andrius to climbing Dragonspine and helping out Fischl. The characters are drawn, "chibi-style," making them ridiculously adorable (just look at that mini-Diluc).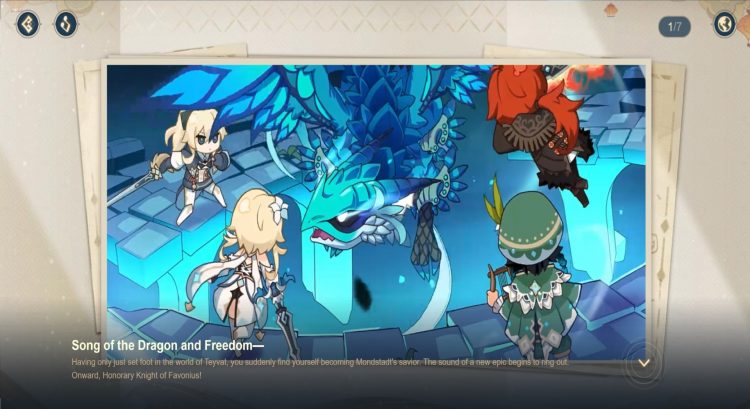 Anyway, the event itself, as the name implies, is in keeping with the Lantern Rite theme. You'll simply need to light the five lanterns that appear on your screen.
This is done by clicking on the "release lantern" button (which also nets you some ores or gold that you can pick up from your mailbox).
However, to actually release a lantern, you need to have available attempts. You should have one attempt by default, and others can be obtained as you complete some daily tasks. Here are some examples for today:
Daily login
Retweet the event page
Check Genshin Impact's Twitter account
These "quests" refresh every midnight depending on your chosen server/region. For example, those of us who play in the Asia server use GMT+8 as the corresponding timezone. Since I live in the Philippines (also in the GMT+8 timezone), new quests would appear exactly at midnight.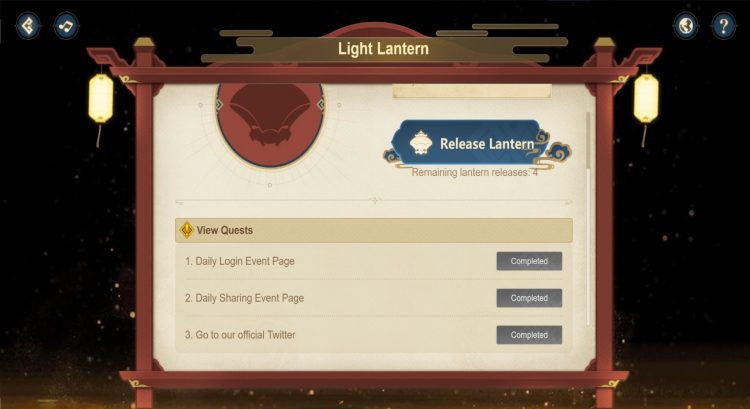 I should mention that clicking the "release lantern" button does let you acquire a particular lantern out of the five that need to be lit. Unfortunately, the lantern you acquire seems to be based on RNG. For instance, I released four today, but I could only light up three since I got a duplicate.
In any case, you'll be able to do these mini-quests on your browser from today, February 19, until February 25 at 11:59 p.m. Once the clock strikes midnight on your chosen server, the Lantern Release period ends. Come February 26, the finalization of the event will occur and those who were able to light all five lanterns will receive a random amount of primogems from the prize pool. Since the prize pool is a whopping one billion primogems, pray to the RNG gods that you strike gold.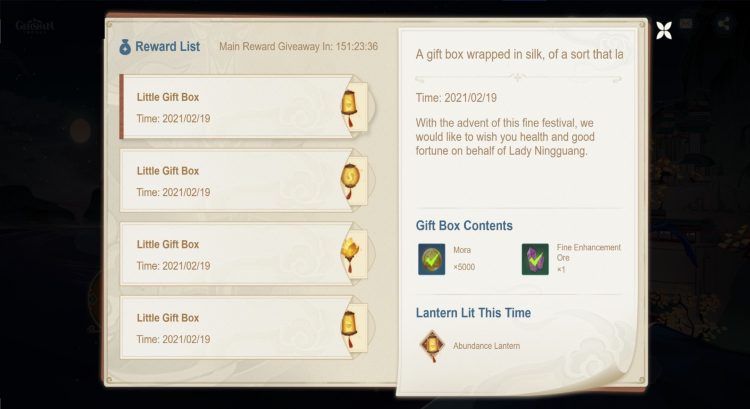 ---
Genshin Impact is available via its official website. For more information, check out our guides and features hub as well as our Lantern Rite event guide.