PDXCON 2019, the celebration of Paradox Interactive's game universes, is underway from now until October 20. They're celebrating the occasion with a host of Steam sales on their numerous titles, as well as giving away Crusader Kings II for free.
If you aren't sure Crusader Kings II is for you, you may as well grab it now while it's not going to cost you anything. Once you've got it, you've got it forever. Plus, with over 40,000 very positive reviews on Steam, it's up there with the best grand strategy games around. If this is the first time you've ever heard of Crusader Kings II, then check out our 7-year-old review to get an idea of what the game is like.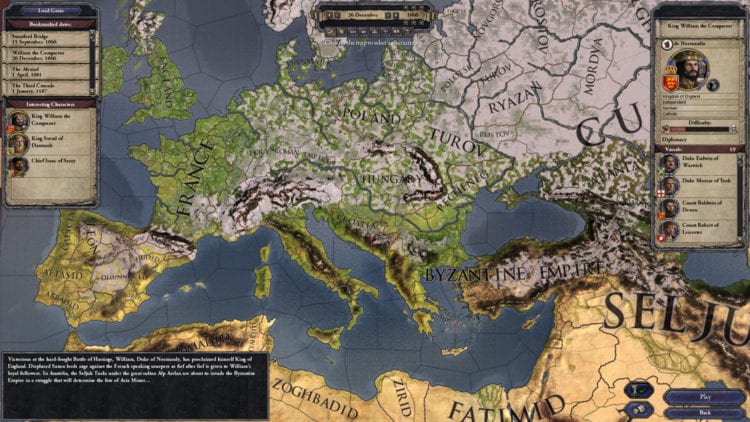 Be a good King, or don't
Crusader Kings II takes place in Europe as the Dark Ages are ending. The continent is in turmoil as petty lords vie against beleaguered kings who desperately try to hold on to their fragmenting realms. On top of that, the Pope has just called for a Crusade to protect Christians. It's a precarious time and no one knows what the future will hold.
But with uncertainty comes an opportunity for an enterprising lord such as yourself. If you play your hand correctly, you will extend your reach across your small territory and eventually across the entire continent. Fill your coffers, appoint vassals, root out traitors and heretics, introduce laws, and interact with hundreds of nobles, each with their own agenda. Politics is a messy business and loyal supporters can turn into bitter rivals in an instant.
If you develop a taste for the intricacies of political intrigue, then you'll be pleased to know that Crusader Kings II has six DLCs for you to extend your rule across history. In the DLCs, you can play the original game from the Muslim perspective, face new threats to the continent, and go into the past to rule in the time of old gods.
Grab Crusader Kings II for free on Steam right now.