Ubisoft has made a name for itself when it comes to sandbox open-world experiences. If you look at any of its franchises, like Assassin's Creed or Far Cry, there is a constant effort to build a large-scale world where you, the player, will spend the majority of your time. Most times, you're going to scour the terrain on foot, discovering various enclaves of life within each massive world. You may even stumble upon hidden areas placed so far out of reach that only veteran explorers would uncover them. Ghost Recon Breakpoint taps into some of those things that make Ubisoft titles recognizable regardless of the story.
Breakpoint provides you with a vast world set in a strip of islands known as Aurora. The chain itself is covered in lush shrubbery. It's so dense, in fact, that you can dive into it for cover from drones and survey helicopters. In other places, water stretches to fill the entire screen, and you can swim from left-to-right and front-to-back. You'll even find yourself marching uphill into thick, forested hills and traversing through jagged rock formations that have torn through the earth's topsoil.
I say all that to paint the picture that Breakpoint's variety of snowcapped mountains, thunderstorms, and murky bogs will undoubtedly ensure that you'll be squeezing every drop of performance out of your rig.
What do the specs say?
Taking a look at the hardware specifications for Ghost Recon Breakpoint immediately sheds some light on what you can expect for performance. On the minimum/low settings, you'll see that it's preferred that your CPU has graduated to the most recent era of hardware. The same can be said for your GPU requirements, even with the GTX 960 still hanging in there, dated though it may be.
As we move down the list of specifications, it starts to become more apparent that Breakpoint has some hefty demands from your rig. The recommended high settings will demand even beefier requirements, such as at least an RX 480 (8GB) or GTX 1060 (6GB) models for high settings. Although this is true, I did find that the game struggled to maintain a consistent framerate throughout my entire spent playing with an 8GB XFX RX 480.
Ubisoft's suggested PC specifications
Minimum – Low Setting | 1080p
OS: Windows 7/8.1/10
CPU: AMD Ryzen 3 1200/Intel Core I5 4460
RAM: 8 GB
GPU: AMD Radeon R9 280X/Nvidia Geforce GTX 960 (4 GB)
Recommended – High Setting | 1080p
OS: Windows 7/8.1/10
CPU: AMD Ryzen 5 1600/Intel Core I7 6700K
RAM: 8 GB
GPU: AMD RADEON RX 480 8 GB/Nvidia Geforce GTX 1060 (6 GB)
Ultra – Ultra Setting | 1080p
OS: Windows 10
CPU: AMD Ryzen 7 1700X/Intel Core I7 6700K
RAM: 16 GB
GPU: AMD Radeon RX 5700 XT/Nvidia Geforce GTX 1080
Elite – Ultra Setting | 4K
OS: Windows 10
CPU: AMD Ryzen 7 2700X/Intel Core I7 7700K
RAM: 16 GB
GPU: AMD Radeon VII/Nvidia Geforce RTX 2080
Writer's specs
Processor: AMD Ryzen 7 2700X (8-core)
RAM: 32 GB
GPU: AMD RX 480 (8GB)
Comparisons from high to low
For textures, Breakpoint does require you to exit to the game's main menu before loading in the higher or lower textures settings. I had to do this each time I grabbed the screens below. Other options for lighting and shadows can be changed without exiting, giving you at least a starting point to tinker with individual settings. Only in the main menu can you run the built-in benchmark, something that isn't included with every game on the market. You'll see a few weather effects and take a trip over most of the unique and varied environments as it plays out.
To show what you can expect in-game, here's a look at a scene showcasing the character model, lighting, and various other textures from the game's ultimate specs down to the low end.
After looking at comparisons of some of the global settings, you can see that there isn't much difference in the overall quality of the game. Plants are still detailed, not flat matted clumps. The lighting effects remain very robust, even so much as to have small dust and light particles float throughout each scene. This might also be one of the reasons why I couldn't hit 60 FPS even at medium global settings.
I should also note, I did have a few issues with driver software when doing this review. At one point, I had to uninstall my driver settings and then reinstall them again fresh. I also attempted to see if the Razer Cortex app was able to assist with recommended settings. However, the result never really changed with each test run.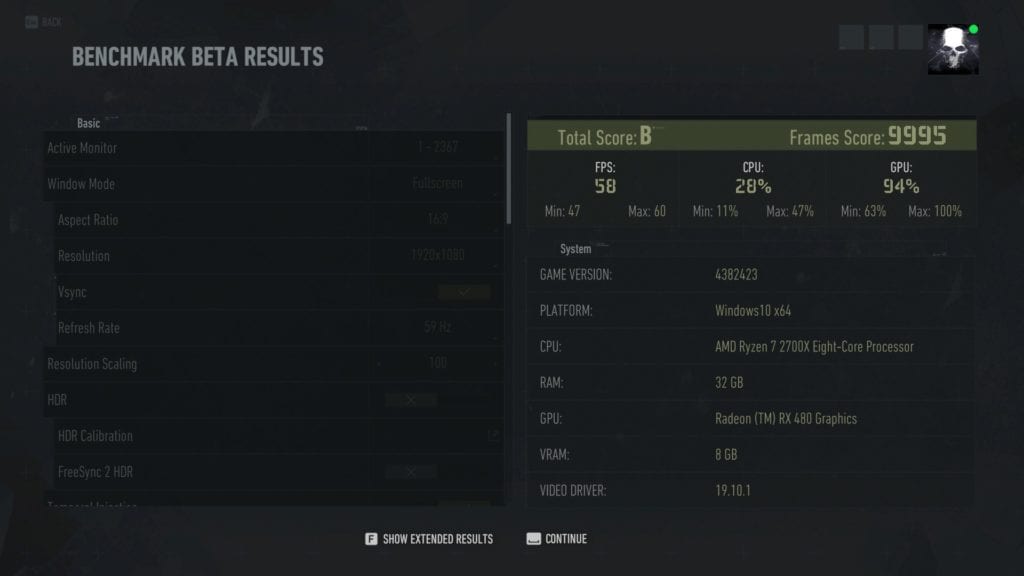 I made several attempts to reach the 60 FPS mark in Ghost Recon Breakpoint. This was even after tuning and tweaking post-benchmark run. However, even at Medium settings, which I thought for sure would push hardware taxation down, I couldn't squeeze more than 51-54 out of a scene. Granted, it did look nice.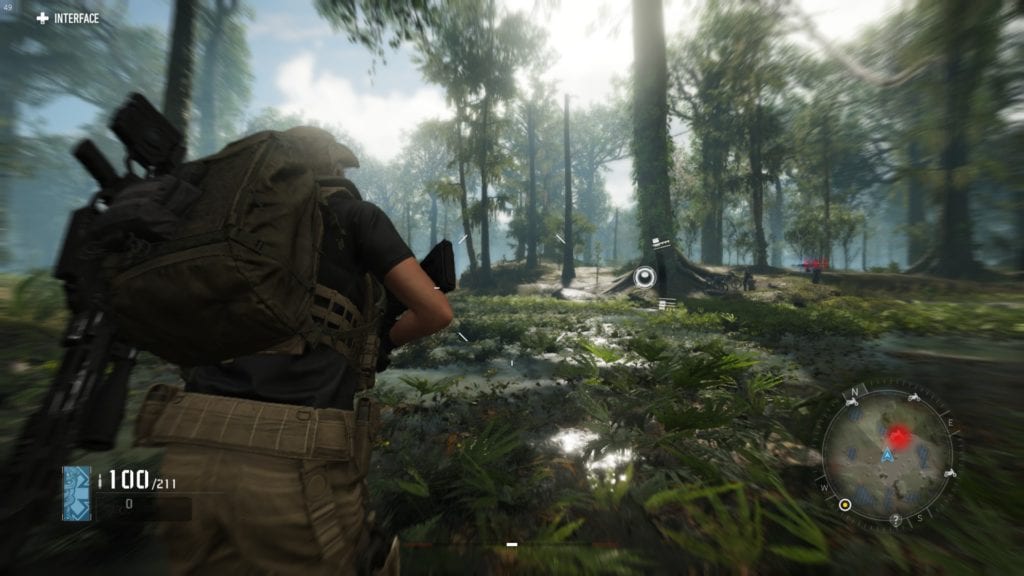 I also found that, at times, the character models gave off those uncanny valley vibes. You can customize things like hair and facial scars right from the start. However, during NPC interactions, I couldn't help but shake the feeling that these weren't the main priority during the development process. If anything, the models feel rushed, even empty, as conversations play out. Which is sad, as the same can be said for your character as well.
Hair doesn't look natural or fitting. It has an odd, hard look to it, with other whispy strands blowing in the wind. You can even see that in the image below with the follicles close to the head looking thick and unsettling.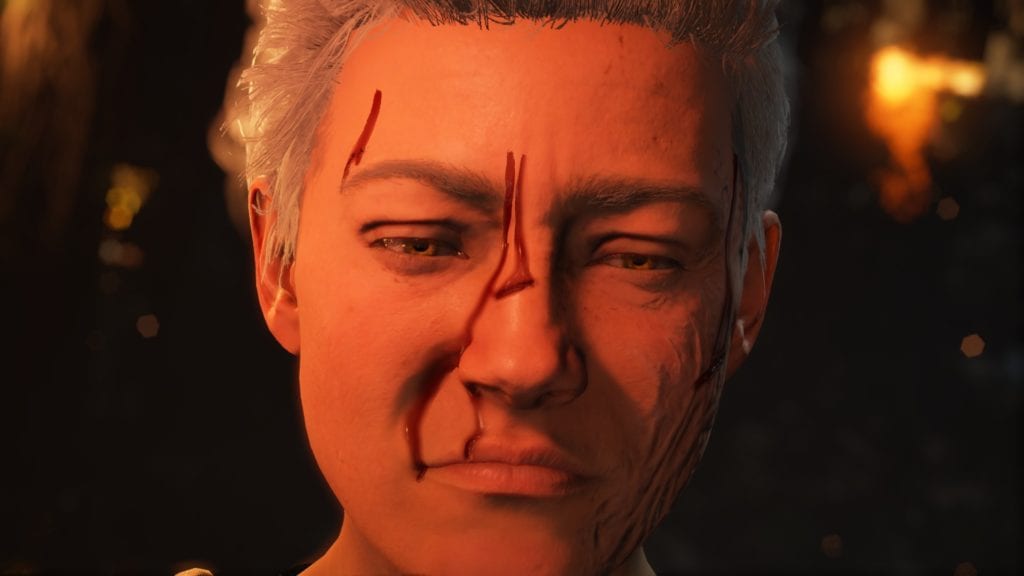 Customizations galore
If there's one thing that's apparent in Breakpoint, it's the almost unending customization options available. You can go in completely blind and not have any guidance or navigation in the menus. But, if you choose to include them, you can even enlarge the text on-screen for your mini-map and other icons. At the beginning of the game, you are prompted to choose to play in the guided mode (map locations clearly defined) or where there are hints and suggestions as to where to find locations. Sifting through the menu, you'll also find colorblind options, text-to-speech, as well as other tabs for mission reminders and HUD objects. Honestly, the level of game details here is surprising. There is an option for every way that you would choose how to play the game.
I included this in the performance review simply due to the fact that, although the game does struggle at times even in the recommended hardware settings, it does seem like the team was well aware of hardcore fans who seek a sense of survival realism even if exceptional visuals are out of the question.
Final Thoughts
It seems that there could be future optimization in the pipeline for Ghost Recon Breakpoint. There are tons of options to tweak just about every aspect of the game, including colorblind modes, and various HUD options for those who want a true simulation experience.
The included benchmark tool might make the visual customization process a little easier. However, after running through each of the global settings, including turning off taxing features like Anisotropic Filtering and Ambient Occlusion, Ghost Recon Breakpoint still struggled. I still have yet to find a sweet spot where the game doesn't look extremely dated and my computer doesn't reach its own… breakpoint.