Ubisoft has unveiled the minimum and recommended PC specs for Ghost Recon Breakpoint, and everything seems to be a bit mismatched. If a PlayStation 4 and Xbox One can run Ghost Recon Breakpoint, the latest entry in the long-running, Tom Clancy-inspired series, then why do the minimum PC requirements demand a Core i5-4660? That seems like overkill for what should be a relatively unaltered game from Ghost Recon Wildlands.
For once, I don't think I'll be able to actually run this game at 1080p with low settings. I suppose that would mimic what consoles are able to achieve, true. However, I can't help but think that something has gone wrong here. I can't fathom how such a late generation console game would demand such powerful hardware for 1080p playback. Also, I'd like to point out that 1080p is, in fact, 2K, so I think Ubisoft got the resolutions mixed up. There's no way 2K at Ultra would require more power than 1080p at Ultra since they are the same resolution. Ubisoft likely meant to type 1440p or 2.5K.
My rambling aside, you may need to actually upgrade your rig if you intend to play the latest Ghost Recon on it. If you're rocking a fairly recent Intel or AMD chip and have one of the newer Nvidia cards, though, you should be all set. Without further ado, here are the specifications for Ghost Recon Breakpoint.
Breakpoint PC specs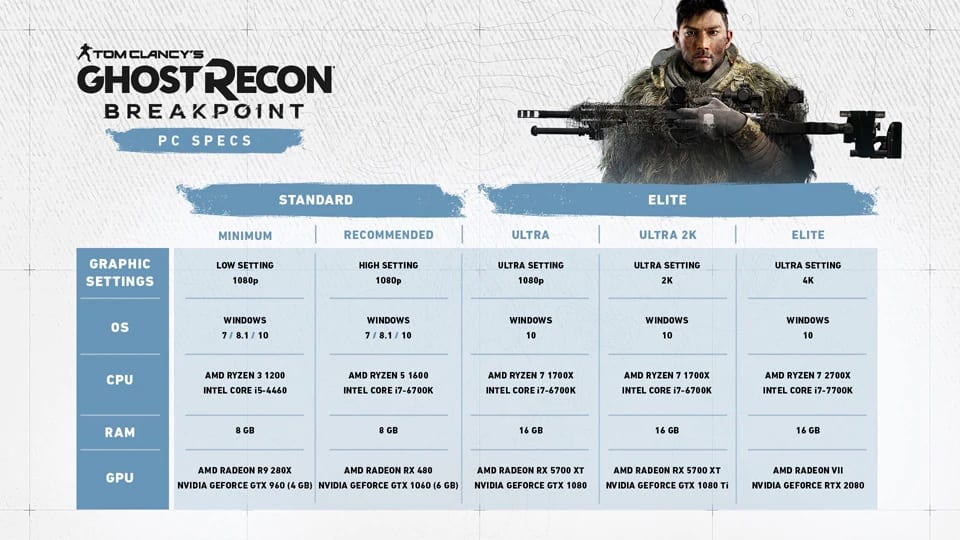 Ubisoft would also like to mention that players who pre-order the digital version of Breakpoint before launch day (October 4) will receive some bonuses in other Tom Clancy games. For Rainbow Six Siege, you'll receive a 7-day renown booster. In The Division 2, you'll get the "Military P416 Wolves weapon skin." Finally, in Breakpoint, you'll earn a pack of 1700 Ghost Recon credits for use in the in-game store.