The legacy of PC gaming has given us plenty of games to be impressed over. However, sometimes, that just does not beat the call of nostalgia. There are many classic games that gamers would want to see make a comeback. For this particular developer, Lionhead Studios' Black & White series figures high on the list. The combination of dry wit, god simulation, and seeing your people flourish or suffer was an intoxicating one. No game has ever come close to replicating that kind of fun, as much as they have tried. With Fata Deum, the vibes are getting stronger.
A successful Kickstarter in early 2020 saw about $70,000 USD pledged to help the game reach the finishing line. With a couple of years of development under its belt, developer 42 Bits Entertainment seems more than capable of completing the project. The studio estimates a target release date of April 2021 for the Early Access debut. Fata Deum is then set to be in that state of Early Access for about nine months.
Divine intervention
Fata Deum drops players into the role of, you guessed it, a god. You will possess the power to nudge the mortals along, despite them clinging onto their free wills. Direct them to build settlements, places of worships, or even pursue agrarian lifestyles. Progress comes with sacrifice, and a sacrificial altar will do just nicely as well. That will also give you the opportunity to call forth an army of demons, which is pretty neat. Whether you are a benevolent god or one ready to sow chaos, it is entirely up to you.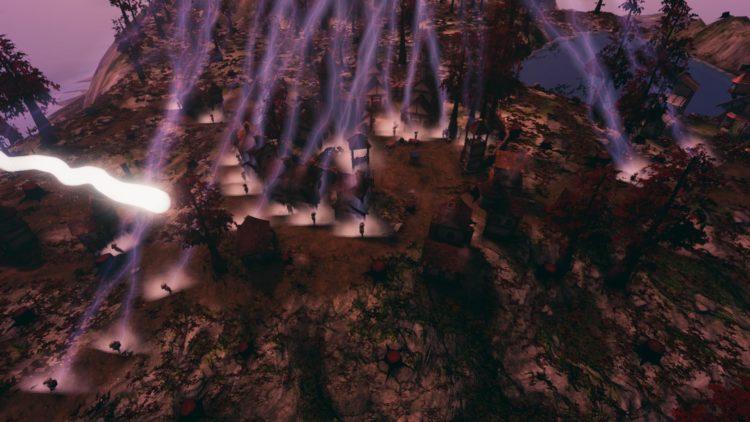 Fata Deum also gives you the power of the elements, as well as dark magic. Whichever alignment you tend to skew towards, your civilization will reflect that in terms of visuals as well. The call of the darkness is tempting indeed, with the architecture and the undead making for quite a sight. Unfortunately, the world is not just your oyster. Other gods are competing for attention, and they each have their own agenda, be it violence, deceit, pleasure, and the like.
Fingers crossed that Fata Deum will be the one to revitalize the god simulation genre. It has been far too long.