Counterplay Games has finally shared the recommended PC specs for its looter-slasher Godfall, and it looks like things are finally starting to get more demanding leading up to the next generation of games.
Godfall has received a lot of attention for being a member of a small group of next-gen games, especially for the PlayStation 5, for which the game will be a console exclusive. Sony has repeatedly pointed to Godfall as a testament to how powerful the PS5 is, focusing specifically on the game's admittedly impressive visuals. For PC players, that impressive performance on console translates into some slightly steeper specs.
At the minimum
Admittedly, the specs list for Godfall on PC is pretty sparse. Although it lists all the hardware requirements, there's no indication of what resolution or framerate players can expect when they boot up Godfall with their rigs. At the very least, here's what players will need to run the game:
OS: Windows 10
CPU: AMD Ryzen 5 1600 / Intel Core i5-6600
RAM: 12 GB
GPU: AMD Radeon RX 580, 8 GB / NVIDIA GeForce GTX 1060, 6 GB
While these specs aren't exactly high-end, keep in mind that they are for the game's minimum settings, whatever that may translate into in terms of resolution and framerate. Having 12 GB of RAM at the ready and a CPU comparable to the ones listed above is not the biggest surprise here. That would be the requirement of an NVIDIA GeForce GTX 1060, 6GB, which has consistently been one of the most common GPUs found amongst Steam users.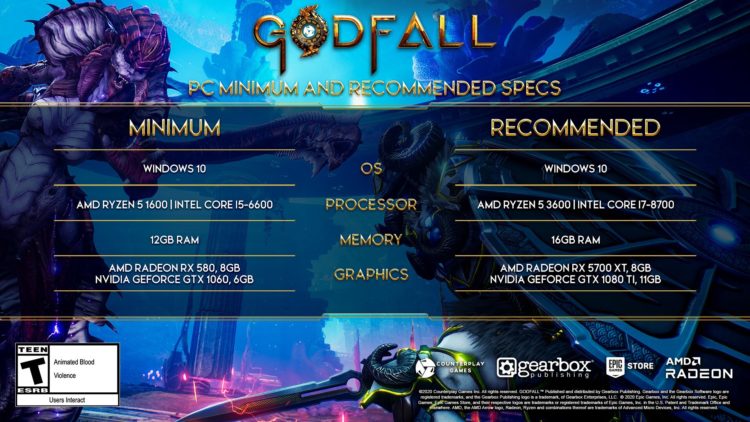 Recommended specs
Naturally, Godfall's recommended settings are where things start to heat up. Again, there is no indication of how the game will actually run with this configuration. However, the standard is 1080p at 60fps, so it can be assumed that having these specs at least will net players that kind of performance.
OS: Windows 10
CPU: AMD Ryzen 5 3600 / Intel Core i7-8700
RAM: 16 GB
GPU: AMD Radeon RX 5700 XT, 8 GB / NVIDIA GeForce 1080 Ti, 11 GB
With its popularity, it's no wonder that the AMD Ryzen 5 3600 is being cited here as one of the recommended processors — it's a mid-range chip that doesn't break the bank while boasting admirable performance. However, on the GPU side of things is where Godfall turns the heat up. The RX 5700 XT is AMD's competitor to NVIDIA's GeForce 2060 Super performing to match.
While these aren't the most intense specs for a game, we still haven't seen what it will take to run Godfall at its highest settings with ray tracing enabled. That being said, PC gamers can expect this title to put their newly acquired 3000 series NVIDIA cards or 6000 series AMD cards to work when it releases on November 12. Pre-orders for the game are currently live on the Epic Games Store.