Good Company is an upcoming tycoon management simulator that will have you attempting to build a company from the ground up. As the CEO with a visionary idea, you'll need to grow your staff, invent increasingly complex tech, and delegate like a boss. That is — if you like raking in enormous profits. The announcement of Good Company was accompanied by a gameplay trailer and a release date of March 31.
It's business time
Like every great company, yours will start in your garage. As you expand, you'll be able to use the powerful Logistic system to automate your production. You'll also need to come up with creative ways to optimize if you want to maximize those profits.
There's a single-player campaign to be conquered, where aspiring CEOs will tackle scenario levels and bonus maps. There's also an endless Freeplay Mode where you can attempt to make more money than billionaires. It shouldn't be tough. You can also play Good Company co-op, if you're into partnerships and sharing profits.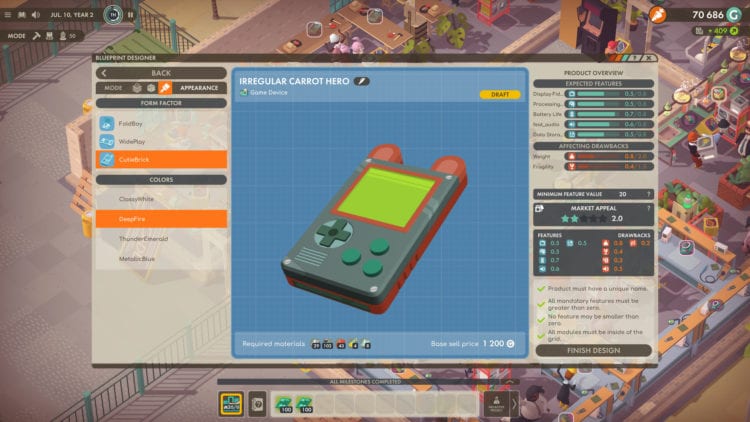 Good Company is sure to challenge and reward even the most hardcore tycoon fans as you go about building your empire by mastering the arts of invention, automation, and expansion.
Dominik Schneider, a co-founder of developer Chasing Carrots, said in a press release, "With Good Company we want to make players forget that our game is a management simulation. We want them to be managers, intensely challenged and rewarded by every action they take while hands-on building a unique corporation."
A good deal (and another Good Company trailer)
If you preorder Good Company through Steam, you can get the game for 10% off. Plus, you can go full snob with three fancy preorder in-game items. There's a Bunny bot companion to keep you company, a dapper top hat for your character to strut around in, and a gilded fountain for your employees to marvel at — but not for too long, as there's work to be done.
News announcer Noddy Portant shows off all the in-game bonuses in the Good Company preorder trailer below.