Blizzard has revealed the final solo adventure in Hearthstone's Year of the Dragon will be Galakrond's Awakening. This adventure has been long in the making, beginning back in May 2019 with The Dalaran Heist.
Throughout the year, players have been playing both sides. In Rise of Shadows, they took on the mantle of the League of E.V.I.L., while the Saviors of Uldum expansion saw them battling for the good guys as the League of Explorers. In the build-up to Blizzcon, players were told they would have to choose wisely in the next expansion. But in Galakrond's Awakening, you will still be able to play both sides, so it looks like there won't be much of a choice to be made.
Check out Arch-Villain Rafaam's spectacular production in the cinematic trailer below.
The saga comes to an end
In this final chapter of the story, Hearthstone players will need to deal with the consequences of Galakrond's Awakening. There are two stories available and players will be able to play through both. A completely different ending comes from playing each side.
Galakrond's Awakening will return to the linear adventure format. This means players will progress through the story by defeating individual bosses in order. Each story contains four chapters with three encounters, for a total of 24 unique battles to play. In each encounter, the player takes control of one of the heroes or villains seen throughout the Year of the Dragon and are given a random deck to battle with. The first E.V.I.L. chapter will be free for all players, but every chapter after that will need to be purchased when they are released. Chapters may be purchased for $6.99 or 700 gold, which includes both the E.V.I.L. and Explorers side of the story. When players purchase chapter one, they will get the Explorers side of the story and three bonus cards (the E.V.I.L. side is free).
Once you've completed a chapter, players can also be able to attempt its Heroic Mode. These considerably more challenging encounters will allow you to build your own deck and will reward you with two different card backs.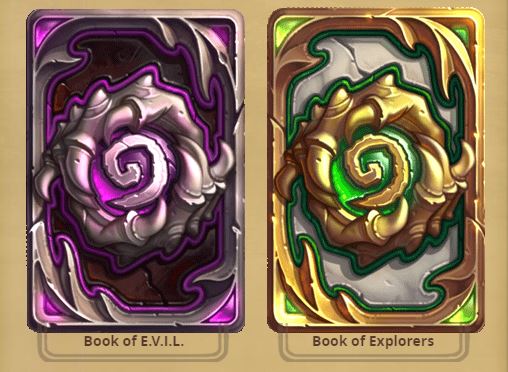 Personally, I think Blizzard should have forced players to choose sides. The way they have done it makes the player more of a passive participant, rather than an active contributor. The story would have been more meaningful if players were forced to choose the outcome. Rewarding players with something that reflects the side they chose would also have been a nice touch.
Get your collectible cards
With Hearthstone's Galakrond's Awakening, we also see collectible card rewards making a return to the game. A total of 35 cards will be unlockable by clearing encounters throughout the adventure. Each chapter will have eight cards to unlock. We already know four of the cards players will be able to unlock and you can check them out below.
Chapter one of Hearthstone Galakrond's Awakening will be released on January 21. Chapter two will follow a week after on January 28. The third chapter will be released on February 4, and the final chapter will be out on February 11.
Hearthstone is free-to-play on PC and can be downloaded from the Hearthstone website.