Aerosoft's new extreme off-roading sim Heavy Duty Challenge just wrapped up its weekend-long playtest. Admittedly, I only got a chance to catch the last hour, but that's pretty much all I needed to experience in order to walk away feeling pretty impressed by this seemingly random project.
In the past few years, fans of the off-roading sim sub-genre have been spoiled by the impressive design of the Spintires series (now known as MudRunner and SnowRunner). The mechanically beautiful representation of the vehicles in those titles is easily some of the best in class. And now, it looks like Aerosoft is falling right behind Saber Interactive in that department. My biggest takeaway from this sim full of big trucks is definitely the physics system. Not only does it seem authentic, but it just looks awesome.
Crash course
I'm not quite sure why it's so oddly satisfying to see the suspension of a truck roll, bounce, and bend as it meanders over uneven terrain. Again, that's what makes playing titles like SnowRunner so fun for someone like me (and apparently many others). Just seeing the physics at work is somehow very visually pleasing. Heavy Duty Challenge is no different. But, it's not all for show.
The actual gameplay involves taking big rigs over some pretty extreme truck-sized obstacle courses. In the particular map that was available during the playtest, all of the obstacle courses were located in what appears to be an old mine/quarry. The obstacle courses are made up of construction debris and rubble, things like chunks of concrete, scrap metal, old trailers, etc. Each course also uses the rough terrain surrounding it to really up the ante. Sometimes the courses wind upwards alongside the cliff of an incline. Others involve carefully maneuvering through some particularly rough patches of rock and dirt.
In addition to the obstacles on the courses, there are also gates that must be passed through along the way. Gates are marked by two poles in the ground, and players incur penalties upon hitting these. Speaking of which, penalties are quite prevalent (which is to be expected, since it's all about clearing obstacle courses).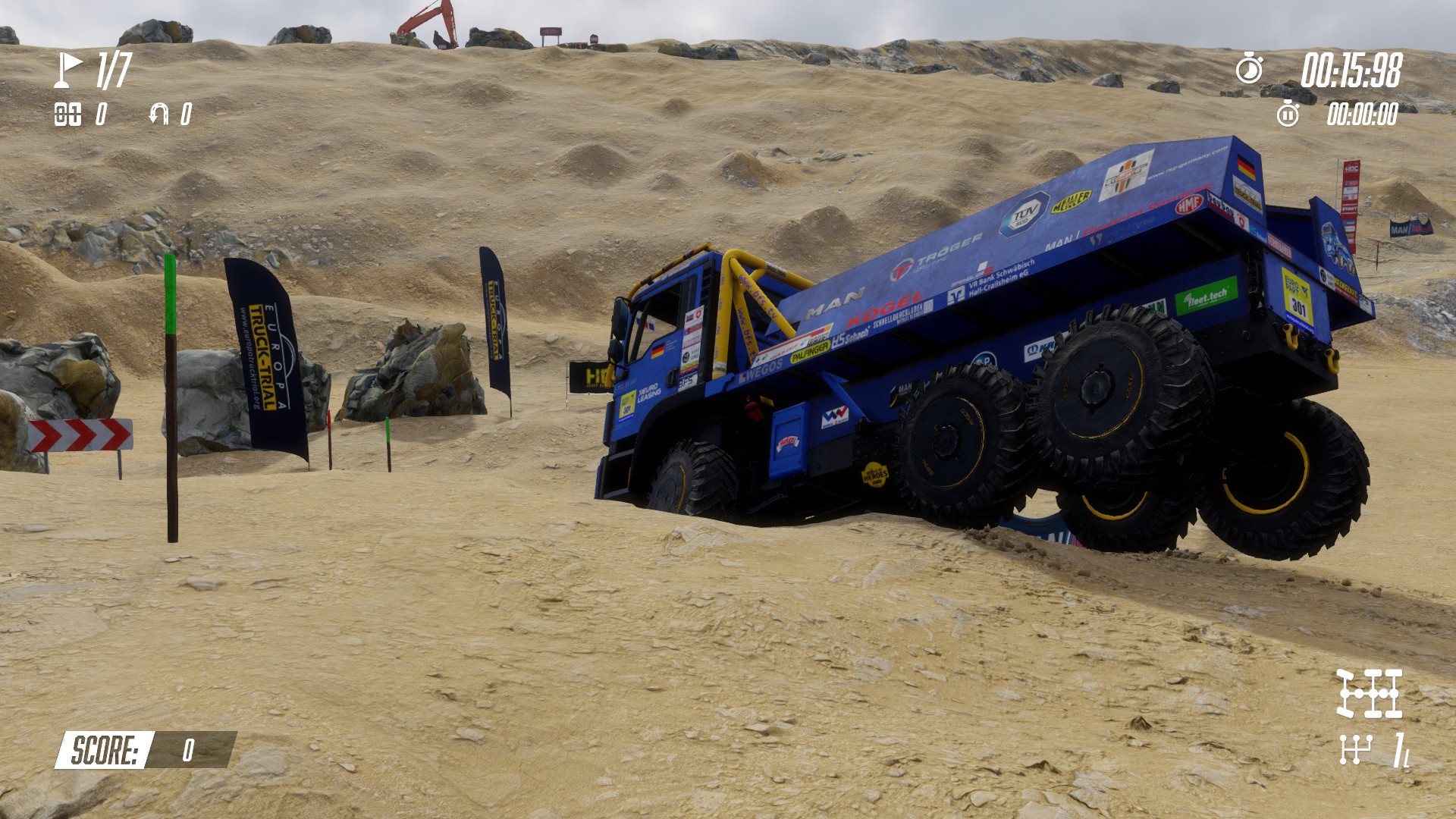 Penalty aplenty
The goal to "winning" in Heavy Duty Challenge is to be the one to accumulate the least amount of penalty points. Thus, having a score of zero is actually a good thing, since everything else that you can get is on the minus scale. Penalties include stopping for more than 15 seconds, failing to pass through a gate while driving through a course, and even if you simply need to reverse. As annoying as that might sound on paper, in practice it isn't so bad. Then again, I was too busy trying not to get stuck or topple over rather than worry about my score.
Since this is a simulator, the way the trucks handle in Heavy Duty Challenge feels pretty authentic. The gearbox is manual from the beginning, and there is no way to change it. I thought this might be an issue, but I quickly learned why it's important. Due to the extreme changes in slopes around the terrain, the trucks will sometimes require more (or less) power to make it across a particular section. Shifting between low and high gears quickly became a necessity and felt natural. Shifting is pretty simple. The controls consist of just two button presses. The all-wheel drive and differential lock systems are also activated with simple button presses and are activated/deactivated in stages. Fuel consumption is thankfully not present in this game, so the only challenge comes from conquering the terrain.
The courses allow for two attempts, after which, you have to move onto another. However, the courses can be tackled in any order. Some are certainly more complex and technical than others, but all of the courses have some tricky sections.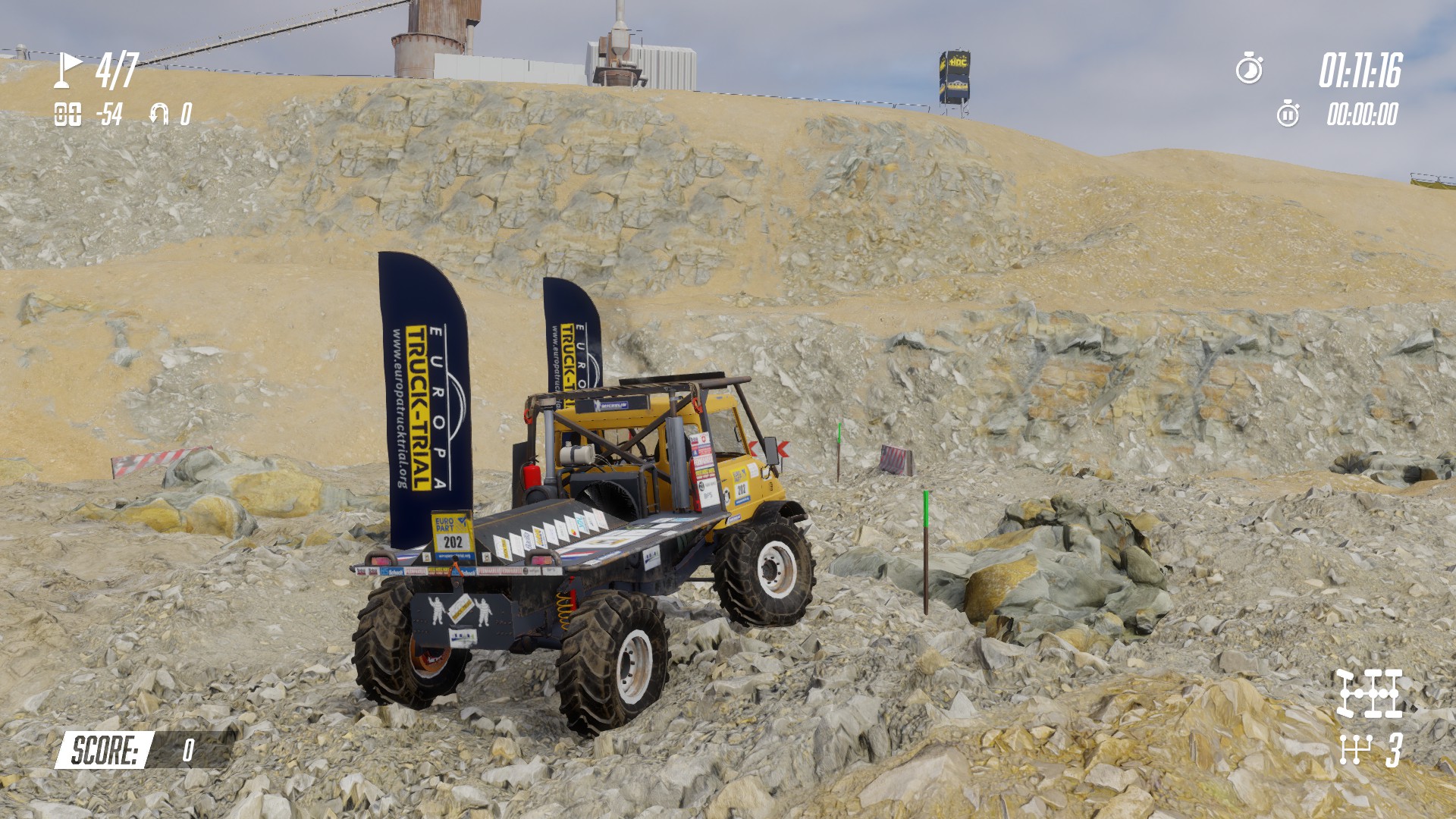 Big rig bash
Three trucks were available during the Heavy Duty Challenge playtest: the Unimog 416, MAN TGS 33.480, and MAN TGS 35.480. Each of these has a different size. The Unimog was definitely the smallest, and the MAN TGS 33 sat in the middle. The differentiation does make a difference in gameplay.
For instance, some of the more elevated parts of the map require using twisty, thin roads to access. The Unimog 416 got up those paths (with a lot of careful attention), but the two larger trucks would surely topple over. That said, the much larger size of the other trucks definitely helped to crawl over rougher terrain and obstacles with ease.
It seems an additional challenge in each course is to conquer the map with each of the trucks. This is bound to be infuriating for some, but even failing in this sim was kind of fun simply due to the physics system's precision. It's easy to recognize mistakes, such as not keeping your wheels right on target when using a trailer bridge and then getting stuck.
A fun, bouncy journey ahead
I must say that Aerosoft has a pretty solid project coming along with Heavy Duty Challenge. There aren't that many titles out there that have a focus like this, but I hope that's what helps it stand out when it releases. If just my short hour-long session was enough to get me amped, I can easily see this project taking off if and when popular sim content creators start playing and talking about it.
There's a lot of great potential here, so I'm looking forward to trying out the full experience.