Carl Ingram unique assassination challenges
Here are the unique assassination challenges for Carl Ingram.
Pick Your Poison
Find the chef in Ingram's penthouse. Lure him with a coin so that he goes inside the storage room, then take his disguise.
Prepare the food and add lethal poison to the mix. If you didn't bring this item with you, you can loot it from Zana Kazem from the "Bird of Prey" mission story.
Ring the bell so Ingram grabs his meal and watch the poison will finish him off.
Note: As an aside, you can get a "Hold My Hair" drowning kill by using emetic rat poison.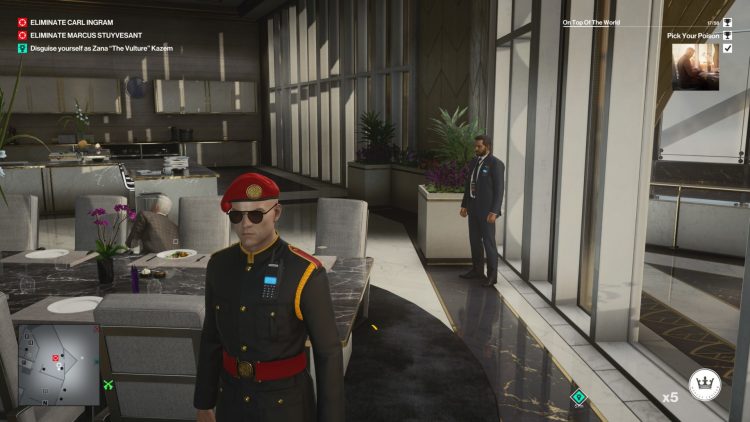 Black Gold Eye
Towards the end of Hitman 3's "Bird of Prey" mission story, Ingram will go to his bedroom. Quickly subdue the guard near the bed.
Then, smash Ingram's face into the replica of the Sceptre.
Steep Task
If you didn't skewer Ingram's face with the tower's model, you can subdue him instead. Drag his body to the next room and throw him over the railing.
Angry Birdy
You need to have the Explosive Golf Ball item with you. As far as I know, you can only get it by reaching mastery rank 10 for Hitman 3's Dubai level.
Anyway, complete the feats challenge to annoy Ingram while he's on his dictaphone. Do this twice and Ingram gets so pissed off that he'll want to do some golfing.
Go to the penthouse's open-air balcony and place the Explosive Golf Ball in the bucket. Watch Ingram go kablooey.
Next, let's talk about the unique assassination challenges for Marcus Stuyvesant.