The PC port of Horizon Zero Dawn hasn't had the smoothest ride since launch back in August. We've reported on multiple patches released by developer Guerrilla Games, attempting to fix a host of issues. The most recent of which, update 1.05, dropped last month and made changes to Aloy's hair, various shader animations, and more. Now, the team has just dropped update 1.06, which attempts to fix a number of lingering issues with Horizon Zero Dawn on PC.
A few more crashing instances have been looked at in this latest update. In the patch notes, the team says that it has fixed a streaming compute shader crash and a crash on start-up. The start-up crash was related to file paths with non-ANSI characters. Hopefully, these two fixes mean the majority of major crashing issues have now been sorted.
Glitchy Graphics
Following last month's patch, more fixes have been implemented for graphical glitches. These come down to two broad visual errors and two that relate to specific moments in the game. The general graphics issues that have been fixed are a HDR issue where UI elements were overlapped, and a settings issue where using the adaptive FPS option resulted in lower performance. The two more specific fixes relate to two main missions. A fix has been implemented for character warping during The Point of the Spear mission cutscene and for flashing box graphics during the game's final cutscene.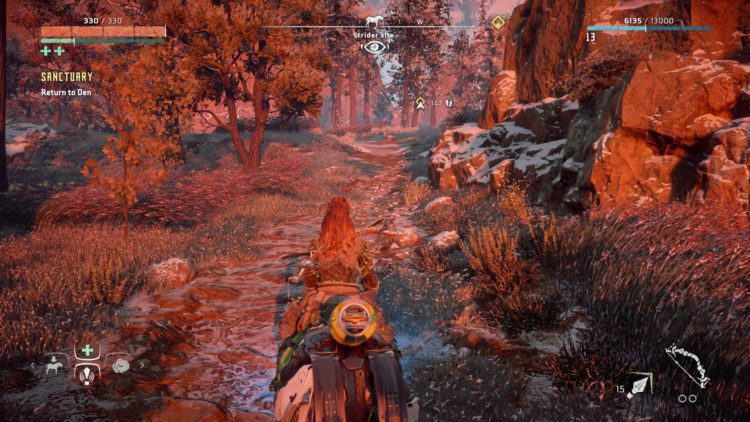 There's been a few other minor changes made too. Prior to update 1.06, Aloy would often walk at a slight angle rather than the exact direction the camera was facing. This has now been altered. Finally, a change has also been made to the executable game file, which now displays the current, updated version of Horizon Zero Dawn.
We hope that Horizon Zero Dawn update 1.06 fixes most user issues. If you're still running into problems though, you can report them directly to Guerrilla Games.