Humble Bundle has been one of my main go-to sites when it comes to getting the best deals on Steam games. The website offers discounted bundles, indie creations, DRM-free titles, and an awesome monthly subscription system. In fact, our newest series, the Humble Monthly Review, has yours truly looking at how each month's offerings stack up. And that brings us to the latest bunch up for grabs — the Humble Jackbox Party Bundle featuring the You Don't Know Jack franchise.
Humble Bundle knows that You Don't Know Jack
One of my fondest memories of gaming actually comes from the You Don't Know Jack franchise. The first game in the series was a sleeper hit for the original PlayStation. I remember buying it not knowing what to expect, and I was blown away due to the fun and snark.
Back in those days, you had stuff like Wheel of Fortune and Jeopardy!, both of which bored me to tears. Rather than following an established game show formula, You Don't Know Jack simply gave you trivia questions with four possible answers. Whether you're right or wrong doesn't matter because the announcer would follow it up with some snark. The comedy provided by the game made for an awesome pastime with my classmates and neighbors.
It was, however, playing You Don't Know Jack with my sister that gave us the most laughs. I recall one particular question about an Egyptian god with the answer being Ptah. The announcer then mimicked as if he was choking and said: "urk… urgh… Ptah!"
My sister and I couldn't stop laughing, and, surprisingly enough, we both still remember that moment and joke about it even until the present day. It's kind of like our own Castlevania: Symphony of the Night "Die monster you don't belong in this world" memorized dialogue — a fond recollection of our gaming yesteryears.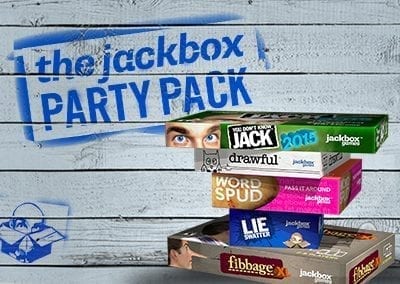 The Humble Jackbox Party Bundle
I do apologize for that trip down memory lane. I simply couldn't help it. Now, ahem — or rather, Ptah! — the Humble Jackbox Party Bundle has games from the aforementioned franchise as well as other trivia and minigame titles.
The pay-what-you-want (PWYW) tier has:
Quiplash
Fibbage XL
You Don't Know Jack Vol. 1 XL
You Don't Know Jack Vol. 2
The pay-more-than-the-average tier (currently at $10.15) has the above plus the following:
You Don't Know Jack Vol. 3
You Don't Know Jack Vol. 4
The Jackbox Party Pack – this contains YDKJ 2015, Drawful, Lie Swatter, Word Spud, and, oddly enough, also Fibbage XL
The Jackbox Party Pack 2 – this contains Fibbage 2, Bidiots, Quiplash XL, and Bomb Corp.
Paying more than $12 gives you all of the above, plus:
The Jackbox Party Pack 3 – Quiplash 2, Trivia Murder Party, Guesspionage, Tee K.O., and Fakin' It
Drawful 2
As usual, buying a Humble Bundle will allow you to set the charity you want to give a portion of your payment to as a donation. You can also set how much would be allocated for Humble Bundle, the developers Jackbox Games, or to charity.
I don't know about you folks but the Humble Jackbox Party pack sure does sound like a pretty decent way to spend a weekend with friends and relatives.