Spanish indie studio Squirrel Bytes has announced Hyperstacks, its VR "frantic action-puzzle platformer." Hyperstacks will arrive on Steam in Q2 2021 in Early Access, and will remain that way for about a year while new content and improved visuals continue to be added.
The game will allow players to dodge traps, climb walls, solve puzzles, and fight their way through enemies. The press release calls it Squirrel Bytes' game a "VR hit," but whether it'll end up that way remains to be seen. The screenshots on the Steam store page look visually pleasing, but the gameplay footage still looks a little rough around the edges. Of course, it's still in the early days of production, but with a lacking trailer, the question is whether VR enthusiasts will decide to take the plunge.
It's all about the features, and these come first
The Steam Early Access version of Hyperstacks has a confirmed list of features that players can weigh the value of when it hits the digital shelves. Developer Squirrel Bytes advertises a level editor, community-centric systems, combat, and full VR movement. Multiplayer is also planned for Q1 2021, in case you were wondering about the long-term plans.
There's more information on each of these topics though. The level editor will allow players to create deadly levels and interact with the community to some degree while designing and sharing them. Squirrel Bytes assures the tool is easy to use and will include an in-game guide for learning the basics. Once those are down pat, you can create complex systems based upon logic for unique patterns and behaviors.
As to the community content, there will be monthly-featured levels, level sharing, Discord events, contests for levels, cosmetics rewards, and community idea sharing. To what extent these things will be implemented is still unclear, but the developers seem intent to take the game in a social direction.
You can also expect a mix of melee and ranged combat that will be supported by the full range of VR movement. Squirrel Bytes mentions speedrunning, so it seems to have high aspirations for the project. Whenever the multiplayer rolls around, it should make the combat experience far more interesting as well.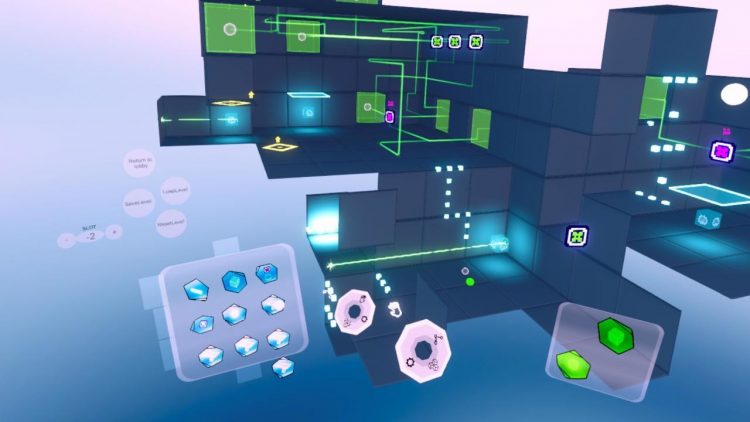 How everything plays is still unknown, but Hyperstacks may be a game worth keeping an eye on during the Steam Early Access period if you enjoy VR puzzle games.
Squirrel Bytes is a small team, consisting of just five members. Based in the outskirts of Barcelona, Spain, the team is working on Hyperstacks as its first title. VR enthusiasts can also join the studio's Discord server or follow its Twitter account for frequent development updates.