While upsetting news about GPU scarcities tends to dominate the hardware headlines these days, there are still some positive things going on for consumers at the moment. AMD created a lot of fuss with its impressive Zen 3 Ryzen 5000 Series CPUs, but that has elicited a firm response from chip giant Intel. The saying goes something like "if you can't beat 'em, undercut 'em." Maybe that's not quite it. Regardless, Intel has some extremely attractive prices these days for its current and last gen CPU options. We're talking about the good ones, too.
Right now, you can find some very good deals on 9th and 10th gen Intel i7 and i9 K Series CPUs across the internet. The best prices we managed to find are at Micro Center, but you may find other companies willing to price match if this retailer isn't an option for you. So how good are these deals? Well, here are a few examples.
Who's the value brand now?
You can purchase Intel's current i9-10900k flagship for less than $500 now. $450 to be precise. But why bother with that when you can get the value-oriented i9-10850K with an equal number of 10 cores for $100 less? The only real difference is that it runs about ~100MHz slower, which equates to an insignificant performance loss when considering the cost savings.
If you don't need to push your framerate and multi-threading capabilities to the limit though (as most gamers don't), you can opt for the 8-core i7-10700K for just $280 now. Similarly, the 8-core 9th gen i9-9900K is now available for $300, while the i7-9700K is just $220. The 9th gen options make for excellent upgrades if you're motherboard is compatible, meaning you can get away with a generally future-proof CPU upgrade on the cheap without changing out any other parts either.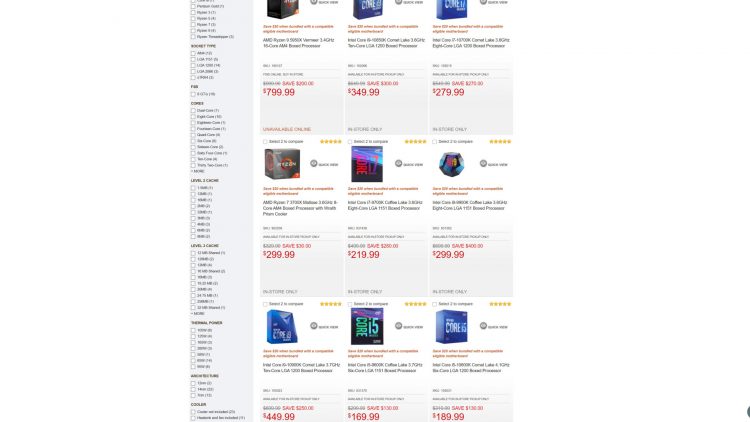 If you just want to stick to the basics though, you can snatch up the 6-core 10th gen i5-10600K for an eye watering $190. It was already priced attractively in the $250-300 range when it debuted, which was a bargain for the gaming potential it posses. Seeing this low is a no brainer for someone looking to build a budget (but still powerful) gaming PC.
Making the case for spending less
What's more impressive is that these prices blow the Prime Day 2020 prices out of the water. For instance, the 10700K has dropped $80 since then, while the 9700K is down another $55. Older lineups aren't always recommended, but there just isn't that much of a difference between the last few Intel generations at the moment. In terms of gaming performance, they are all on the same 14nm process and feature similar core counts and frequencies. No matter the case, there's a price point and performance option here for everyone. The best part? Everything is in stock.
These lower prices for current and last gen Intel CPU options are clearly a sign of the times. While Intel's 11th gen Rocket Lake lineup does look impressive, it will still run on the same 14nm process. We also don't know what the prices will look like, and there's a good chance you could have to pay hundreds more for latest CPUs. If you're tired of waiting and don't need a CPU capable of pushing 240-360 fps, you might as well jump on one of these deals.
Please note that all prices are in USD.