While we all tend to enjoy the AAA blockbusters, every once in a while, an indie catches the eye. Revealed at the Xbox Games Showcase, Interior/Night Games' new project, As Dusk Falls, is one of them. The independent game studio is led by Caroline Marchal, the former lead game designer for Quantic Dream's Heavy Rain and Beyond: Two Souls. Her team also comprises of several veterans from Quantic Dream. Their past experiences are certainly reflected in As Dusk Falls. 
However, the team is aiming for a wider approach to their games. They hope to make original, interactive stories that are based on "core truths of love, loss, good, evil, mystery, wonder, family, and friendships."
Interactive storytelling
As Dusk Falls certainly looks to cover those core truths. As explained by Marchal, the game is "about two families whose trajectories collide in the Arizona desert in 1999. Most stories start at the beginning, but this story starts in the middle, gradually widening outward to encompass multiple points of view over a thirty year span; a story spiral that explores the past, present and future of a single dramatic night."
The idea of shaping the past, present, and future is a daunting one, and As Dusk Falls is not shying away from the hard decisions. In fact, the game wants you to experience "everyday dilemmas first-hand." Players will decide how they want to affect characters who are real, flawed, and just "trying to find their way in a world they don't fit in."
Although the premise of As Dusk Falls is interesting already, it is enhanced by a unique art style. As Dusk Falls seems to blend realistic and more stylized art, giving the game a painting-like feel. Prepare yourself for plenty of secrets, twists, and a story that intertwines between two families, individuals, and you, the player.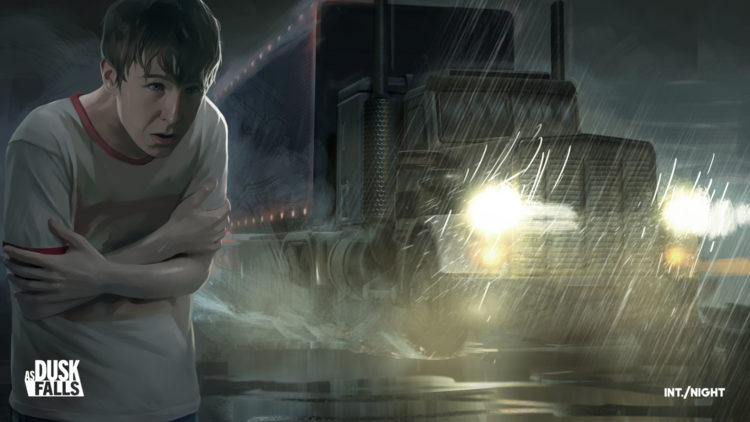 As Dusk Falls still does not yet have a release date.