The developer of the Hitman series, IO Interactive, has today announced that a new project reveal is right around the corner. The team took to Twitter to announce the news, with an image rather scarce on information. While the announcement of an announcement (annoying, we know) doesn't say much, we do get timings.
The new IO Interactive project will be revealed tomorrow, November 19. If you want to be the first to know, you better set that alarm. The developer has included a link to its YouTube channel with a reveal time of 9 AM ET. We're not sure if it will be a trailer or a full livestream, but no stream link is visible, so we expect a traditional trailer upload. The reveal date is interesting though.
Sony's PlayStation 5 console launches in Europe and a bunch of other regions on the same day. IO Interactive is a European developer, so there could be some coordination between IO Interactive and Sony. Remember, the developer recently split from its ex-publisher Square Enix, and we'd be surprised if no one else has contacted them for a collaboration. This could mean some sort of PlayStation exclusivity, so we remain hopeful the two dates are just a coincidence.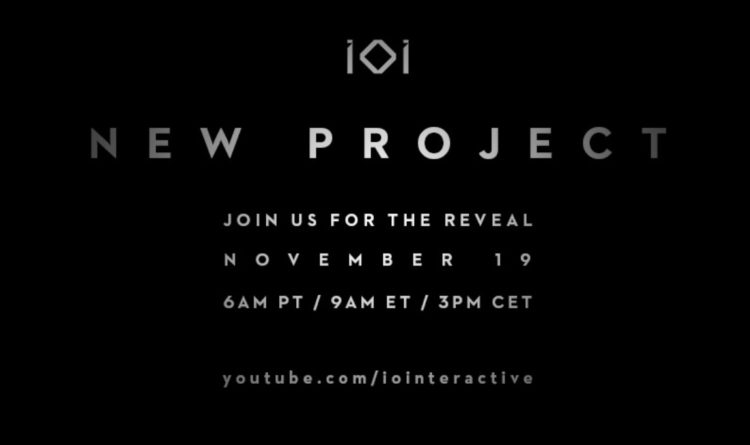 The next Agent
Having said all that, we still expect the next IO Interactive game to drop on PC. The upcoming Hitman 3 is set to launch as an Epic Game Store exclusive, so there's already a partnership built between IO and Epic. That could carry on with the team's next project, which will likely release after Hitman 3.
The last time IO Interactive launched a game that wasn't Hitman was 2010, with Kane & Lynch 2: Dog Days. That was another Square Enix published title, who now owns the IP. When IO Interactive split with Square Enix, the developer only took the Hitman franchise with them.
We're eagerly awaiting the reveal of the next project from IO Interactive then, which takes place November 19 at 9 AM ET.