The Epic Games Store is continuing its trend of bringing titles that were previously PlayStation Exclusives to their PC storefront with 2012's highly-praised game Journey. The game will be available starting June 6, but pre-orders are live now. The game can be purchased for $4.99 during the Epic Mega Sale; otherwise, the game will sell for $14.99. The PC version can also run in 4K, so get ready to watch that sand glitter! Replaying Journey will have to do while we wait for thatgamecompany's next title, Sky, to come out.
Journey takes players on an emotionally evocative adventure through a barren desert and up a steep, snowy mountain. This expedition is symbolic of many things, but Journey uses no dialog to tell its story to the player. This allows every person who plays it to interpret the game differently. I have beaten it several times on PlayStation 3 and PlayStation 4 and have found unique meanings in each playthrough. Each experience is done over the course of roughly two hours and is best done in a single session.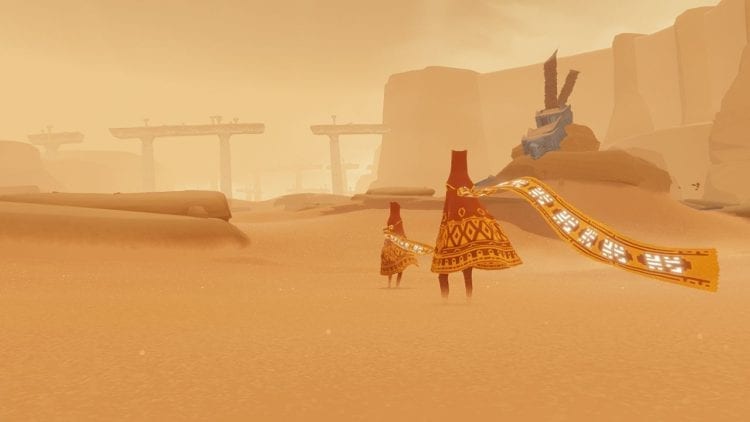 A gorgeous journey awaits
You can play the game solo or with a random player assigned to take the long journey with you. I would highly recommend playing it on co-op. By the time you finish your adventure, you will have grown quite attached to your companion. There is only one way for the partners to communicate, which is simply a chime and an icon which appears above a character's head to get the other's attention. Finding a way to try and deliver a message is always a fun little game, although tough at times.
The other standout part of the game is its wonderful soundtrack. A lot of the emotion in Journey is communicated through music, and it does a wonderful job at it. My favorite track on the OST is Threshold, which plays while you are sliding around in some of the ruins of the desert (heard in the video below). You will hear a medley of woodwinds and cellos on your way up the mountain. Pair this with the fantastic visuals and your senses will be in for a treat!
Be sure to check out Journey in the Epic Games Store next month.
[Source: Destructoid]