Lara Croft is coming to Rainbow Six Siege. As part of a special crossover with the Tomb Raider franchise, the talented archeologist-cum-vandal will appear as an elite skin in Year 5, Season 1 of the tactical shooter's content schedule.
Lara's costume will be available as a skin for SWAT officer Ash. As an elite skin, the costume will have to be purchased separately using in-game credits. This purchase will also provide the player with custom skins for a variety of weapons, a unique Tomb Raider-themed victory animation (which presumably doesn't involve Lara's signature move of desecrating a historical site by smashing things), and a chibi Lara Croft charm.
Lara Croft: Tomb Rainbow
The Lara Croft costume seems to be based on the character's classic appearance rather than her more modern clothing from recent prequel games. Ash wears Lara's red sunglasses, tiny shorts, and gun holsters, while there isn't a makeshift bow or arrow in sight. Although it would be nice to speculate on what deeper meaning could be behind Lara's appearance in this crossover, it's too soon to start assuming that Square Enix is going to take the Tomb Raider series back to its roots.
There's no confirmed date for the arrival of the Lara Croft skin just yet. Ubisoft has simply announced that it's coming some time after the first season of Year 5 kicks off with Operation Void Edge. We've already seen a lot of what Ubisoft has to offer for the coming season, but the announcement of an elite Lara Croft skin suggests that there are plenty more surprises to come along the way.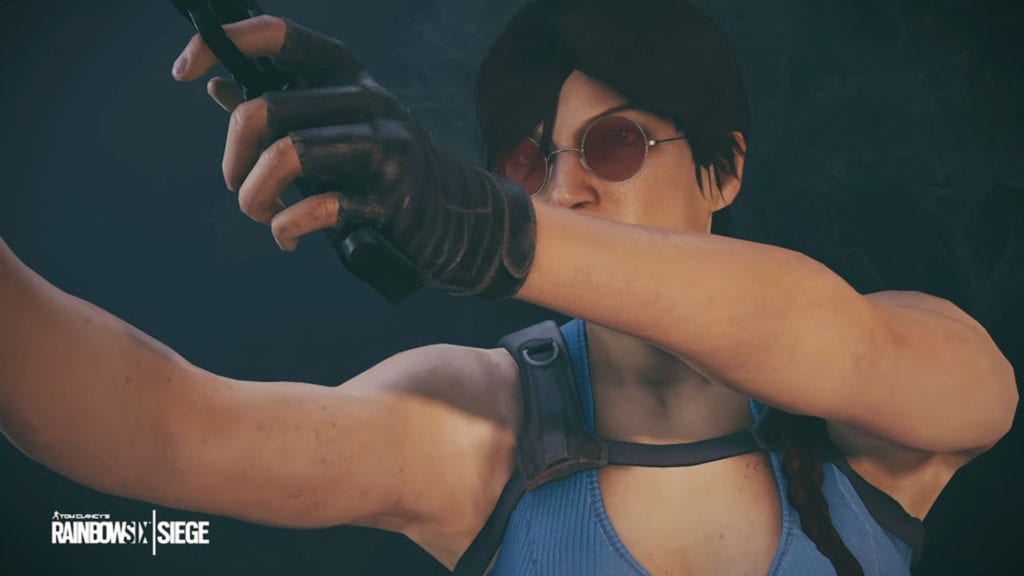 The Future of Rainbow Six Siege
Now into its fifth year, it remains to be seen how much more content Ubisoft will wring out of Rainbow Six Siege. The game's core development team is already working on something new and different, which does suggest that things might be winding down for Siege, but in practice, its lifespan will depend heavily on how long people keep playing and, crucially, spending money on DLC. To that end, the success or failure of this Lara Croft skin may well be instrumental in deciding how long Rainbow Six Siege remains relevant.