Many of us love indie games. And quite a few of us enjoy supporting burgeoning developers that set their eyes into creating hobbies we can all enjoy. Unfortunately, there are times when you reach for the stars only to fall short. That's exactly what happened with Roll7, the developer of Laser League. The company has recently announced that it's discontinuing development support for the game and are handing the duties over to publisher 505 Games.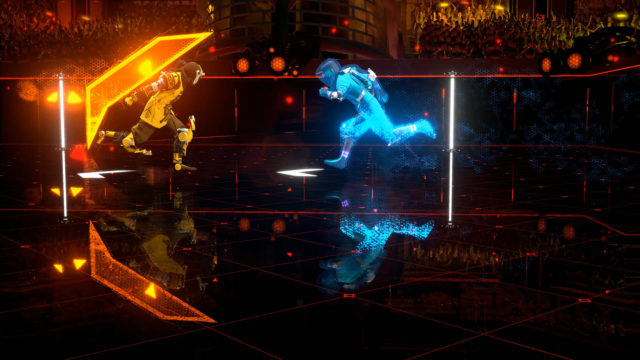 Laser League
If you haven't heard of Laser League, it's a multiplayer game that's one part American Gladiators; one part laser tag; one part team deathmatch; and one part Tron. The game received acclaim in early previews. In fact, we even gave it a 9/10 in our official review earlier this year.
Basically, teams face off in a top-down arena. You score a point when all opposing players are defeated with laser grids you place on the field. However, because this is a team game, downed allies can be revived swiftly enough which makes for some very long and nail-biting rounds.
It's a fairly simple concept, but difficult to master. There are lasers of various colors, shapes, and sizes that zip through the playing field. Match them and you're fine, if not, you're zapped to a crisp. Check out a video of the gameplay below to see how truly hectic things can get.
From Roll7 to 505 Games
Still, it seems that Laser League was just too ambitious of a project for the makers of OlliOlli and NOT A HERO. Roll7 recently announced the following:
As of today, Roll7 are no longer continuing development support on Laser League. All future development and support is being managed by 505 Games.

After OlliOlli2 and Not A Hero, we set out to create something far more ambitious than we had ever done before. From it's humble beginnings as Ultra Neon Tactics, Laser League grew into something we are incredibly proud of and something that our players have found immense enjoyment in over the past seven months and beyond. It's been amazing to see people getting into the game and getting really good with it.

As for us at Roll7, we're taking a break. Making a game at the scale of Laser League is super hard and very stressful. It's by no means the last thing we're going to make, but for a moment we're taking some time to reflect and re-energise.
We do commend the Roll7 team for their dedication. Likewise, the loyal fans of Laser League do hope that continued support for the game will still be around.
505 Games takes charge
505 Games, which has published titles like Gems of War and Portal Knights, will look to improve the game's stability and increase its player base. According to Antonela Pounder, 505's Senior Community Manager, a major problem that Laser League faced was with its matchmaking system. The game required a minimum number of players to kick-start a match. Also, it tried to segregate players based on their regions. Since the game focused on fast-paced and frantic movement and actions, you don't want a misstep due to lag.
Cross-platform play was also deemed "too complex" at first, which led to a rocky launch on multiple systems. However, 505 Games does hope that with improved cross-play among Steam, PS4, and Xbox One players, it can help build the player base even more. As it stands, Laser League's player base on Steam is almost non-existent, peaking at only 19 players in the last 30 days.
We do hope there are more improvements in store for the game, and, as usual, PC Invasion will keep you updated with the developments.