PC case design is something that gamers are slowly wising up to, and for good reason. Your case is more than just a box for your CPU, graphics card, and other components. It's a status symbol for some, as you can place all kinds of cool lights and flashy water-cooling setups inside of them. If you have a nice glass panel on the side, anyone that lands eyes on your build will surely be impressed. Cases can be more than just looks though. Good thermal design is massively important for ensuring your components are able to stay cool and achieve their full potential. And what if you like to swap things out with incremental upgrades? You want a PC that's easy to work on. Lian Li is one case maker that's particularly good at meeting all of these requirements, and it just announced its next wave of products via its Digital Expo 2021 event.
There's a fair number of revised cases and new models alike to talk about. The new Q58 is sure to turn some heads, as its smart design will allow builders to do a lot despite its small size. If you're into compact builds, the A4-H20 is even smaller than the Q58, all while fitting 240mm radiators for big cooling. The revised V3000+ is also going to please those who want maximum cooling and configurability. The semi-new 011D Evo features multiple improvements over the previous model. There's even an update on the Odyssey X designs, which are nothing short of a huge flex when it comes to looks.
The Q58
At just 14.3 liters in volume, the Q58 looks like a wonderful little box to work on. It features hinged glass panels on the upper half of the case with perforated lower panels for plenty of heat dissipation. Adding to that, the top and bottom panels are also ventilated which will allow for airflow with any configuration. The front panel features a brushed aluminum finish with an interface that includes a 3.5mm HD audio port, x1 USB 3.0 port, and x1 USB Type-C port. There are also dual LED strips that run the length of the case for added ambience.
Lian Li noted that you can fit triple slot GPUs up to 320mm long in this case and a 240mm or 280mm radiator. You will need to consider the size of your PSU though if you want to make that happen. Even with an ATX PSU, you can fit a 120mm or 140mm radiator inside along with a dual slot GPU. There are also recessed areas where you can place additional fans, HDDs, or SSDs, depending on your preference. For additional storage capacity, you can make use of a hotswap port for an SSD on the front of the case. Not bad huh? Pricing and a release date for the Q58 is yet to be confirmed.
A4-H20
Another small case here. Smaller in fact. The A4-H20 comes in at just 10.4 liters. This one is much like the previous version, but is a collaboration between Lian Li and DAN cases. This version is able to facilitate a 240mm radiator along with a 2.7-slot GPU up to 315mm long if you build it right. You'll only be able to fit a mini-ITX motherboard and SFX PSU in this one, but the tiny size should be worth it. Lian Li guarantees that all reference cards from both AMD and Nvidia (excluding the RTX 3090) will fit inside. You can also fit x2 2.5″ SSDs in the A4-H20 behind the front panel. No space wasted. Pricing and a release date for the A4-H20 also have yet to be confirmed.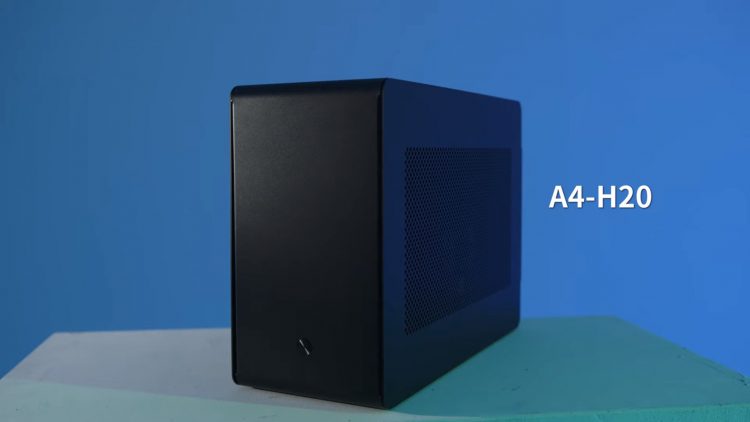 V3000+
Jumping to the opposite end of the size spectrum, we're looking at a full tower case with the V3000+. This is a refresh of the 2017 model, but Lian Li decided it was now time to keep up with the times. This is another case (pun intended) with extensive configuration options.
Seeing as cooling is all the rage these days, this one features a removable front panel so you can switch between "silent" and "performance" mode by opening up the front panel to breath. It sounds like something to chuckle at, but it totally works. There's still a mesh panel to keep your components safe from anything getting inside too. Likewise, this case offers 360mm radiator support that you can make use of to cool a CPU or GPU with. As shown in the demo today, you can place a 360mm radiator in the back of the base, but there are four total locations where they will work. Those working with truly advanced cooling systems can actually install 480mm radiators though. Wild.
Just like we mentioned for the Q58, there's a ton of perforated panels on this one. That includes the top and lower-sides There's also a nice glass panel on the left side of the case so that you can peer inside and marvel at the splendor of your build. This too hinges open for easy access. Need more work space? The glass panel lifts off the hinges so you can set it aside.
As for the front interface, the features keep coming. There are a total x4 USB 3.0 ports, a USB Type-C port, and 3.5mm HD audio jack. You will also notice an oddly shaped piece on the front interface. That's detachable remote that can control your fan speeds when everything is plugged into the controller module. You'll need 4-pin fans to do all that, but if you get this case, you're already going all-out.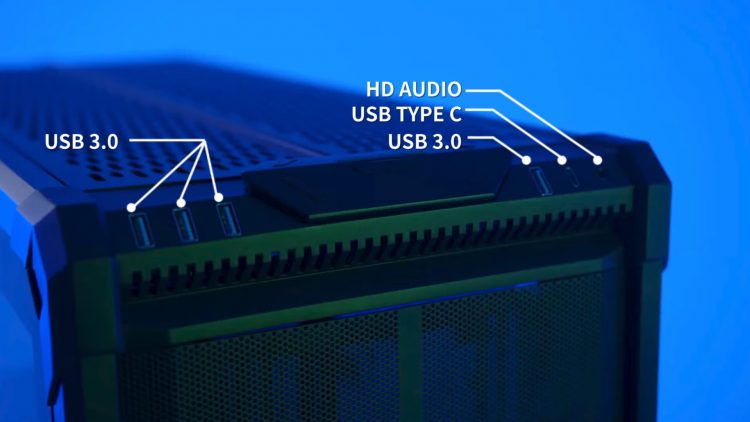 All in all, these look like noteworthy improvements to an already impressive design. The attention to detail throughout is spectacular when it comes to cooling, and even big data folks should be impressed with how much storage this thing supports. As for other components, Lian Li is confident that everything fits. Furthermore, you can even place motherboards or GPUs in chimney configurations to show off a little more. This is clearly a top-tier case without limitations. As the V3000+ is still in the development phase, we're waiting to learn more about availability and pricing. For a point of reference though, the previous model was $449 USD.
011D Evo
While the cases shown thus far from the Lian Li Digital Expo 2021 event are all quite specialized, this next one is sure to sit better with average builders. The 011D Evo is the airflow performance version of the original 011D. It also offers an attractive form factor along with tinted tempered glass. There's no single selling point about this case, because it's quite unique in many ways.
Take note of the finely-perforated panels on the top and side of the case. These go a long way in keeping the components cool, but there's also a perforated panel on the bottom side. You can actually make use of this to channel air vertically in this build, so we're excited to see how that performs. Not many cases allow you to mount fans on the bottom and push air upwards. This design also seems efficient at getting the heat away from your gaming space faster.
As for the interface, there are x3 USB 3.0 ports along with a USB Type-C port and a 3.5mm HD audio jack. You can also open up a door thought to reveal the power and reset buttons along with fan speed controls and ARGB strip color controls. Below that is space for two HDDs or SSDs that take convenience and concealment to a new level.
This case also works with any motherboard size. For PSUs, there's space for ATX designs up to 200mm wide. You'll also be able to fit GPUs up to 445mm in length of any slot size. The vertical option for the GPU is something to ogle at though, as you can see in the image. Lian Li even placed a cutout with grommets for the display cable to run through in this configuration.
Lian Li also took modularity to the next level with this case with the custom mounting brackets that support all kinds of fan, radiator, and SSD configurations. You can clearly mix and match in more ways than we can describe here, which caps this description of the case off. It looks like one of the best cases the company offers for anyone to work with. Just like the other designs the 011D Evo is still in the development phase, and we're waiting to learn more about availability and pricing. However, some of the other 011D models go for around $150 USD.
Odyssey X
Last but not least by any means, we have the Odyssey X cases. There are two of these, as you can see below. The Dynamic appears to lean towards a quiet design, while the Performance appears to feature a more open front. These will not be cheap, as they are built from solid aluminum with a lot of custom angles and shapes, but they sure do evoke a sci-fi vibe.
Lian Li has been working on these for a while now, but announced today that the designs are done. It didn't go into too much detail, but we can gather a few things from the footage. Each appears to feature a blend of premium pizazz with tempered glass panels all around, but intentional openings for airflow. The interface features HD audio, likely a microphone interface, 2x USB 3.0 ports, and a USB Type-C port.
These cases will feature vertical/horizontal motherboard configurations options, with plenty more features likely hidden inside. Once we learn more, we'll share the details. Pricing was confirmed as $449 USD. Clearly a premium model.
Enjoy the show
In addition to its knack for excellent design, we like how much Lian Li prides itself in transparency. The Lian Li Digital Expo 2021 featured multiple reviewers weighing in on prototypes of the designs and even featured the reviews during the expo. It even included some criticism from one of the reviewers in its expo. Check out the full Lian Li Digital Expo 2021 presentation below for more details.
For more coverage on premium new PC case designs, you can also check out our review of the Corsair iCue 5000X.