The wrestling showdown of the century took place this past weekend between WWE and NXT. Alright, so maybe it wasn't technically "wrestling," as the battle actually took place in League of Legends. But it was exciting! A couple of days ago, we reported on the inner workings of this event, all brought together by one Xavier Woods.
Who Is Xavier Woods?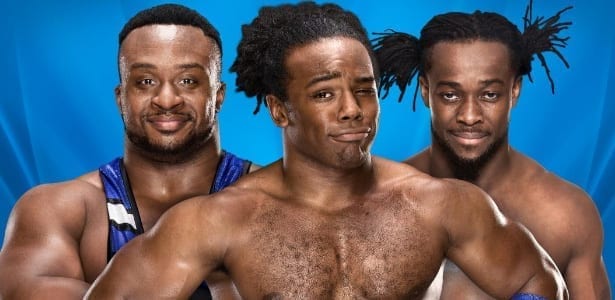 Just as a recap, Austin "Xavier Woods" Creed is an NXT wrestler who has his own gaming YouTube channel called UpUpDownDown. Creed is one-third of the wrestling stable known as the New Day (with Kofi Kingston and Big E) and is known for his gaming and pop culture antics.
And for months now, he has been putting together a match between two of the largest League of Legends streamers on Twitch: Tyler1 and Imaqtpie. The two have a long-running rivalry, and it seemed like Creed had the perfect outlet: a full-on LoL competition between teams WWE and NXT.  All in all, which team came out on top?
The Final Results
NXT. Hoo boy, NXT won hands down. The match was all in good fun (especially with New Day adding some humor to the mix), but it was pretty apparent from the get-go that Team NXT was more cohesive as a team and had some really well-practiced players. Dakota Kai, for example, did exceptionally well.
Unfortunately, in comparison, Seth Rollings showed exactly how little he had practiced. So little, in fact, that he probably would have been reported for feeding in an actual game. But Team WWE wasn't completely full of newbies. Cesaro, for example, cleaned up shop with Sion and has actually been practicing tons in his downtime.
Team WWE Was A Bit Unprepared
Now, WWE mainstage wrestlers are known to have quite a packed schedule. It wouldn't surprise me if they couldn't quite practice as much as they needed. Or perhaps there was some miscommunication with their coach, Imaqtpie? Whatever the case, the event was still a ton of fun. I was honestly surprised by the amount of spectacle and screen-time WWE's schedule gave it. I mean, the event was even held in the official League of Legends arena!
It just goes to show how hard Austin Creed worked for this event and how WWE is adapting to their audience. I personally think it was a perfect way for WWE to push their NXT brand. You know, without having them completely dominate mainstage wrestlers in a physical capacity.
But what do you think? Was it a fun match to watch? Who was your favorite character and wrestler to watch? Let us know in the comments down below.