Magic: Legends only recently launched into open beta, but developer Cryptic Studios has needed to be quick on its toes to ease some early concerns of players. The most notable being the Dimir Assassin class, which was initially only available through purchasable booster backs. Cryptic has now shipped an update to Magic: Legends that will allow players to unlock the Dimir Assassin class through the free track in the Battlepass.
The Dimir Assassin Class pack replaces the Chromatic Mana and Eternal Echoes packs as the level 50 reward in the Battlepass. The pack contains the Dimir Assassin class, the Nightveil Stalker Spell, and the Dimir Assassin Costume.
In addition to this change, the update also awards players 4,225 Battlepass XP. That's the equivalent of one weekly quest and a full week's worth of daily quests. That should go a long way to helping players forgive the early teething problems. It is a beta, after all. Things are going to need work.
Finding the right balance
Another big thing that the open beta is uncovering is a need for balancing the power of players and enemies. It seems like the early stages of Magic: Legends are a bit too easy right now. To that end, Cryptic has made some small changes to the Planeswalker classes with this update.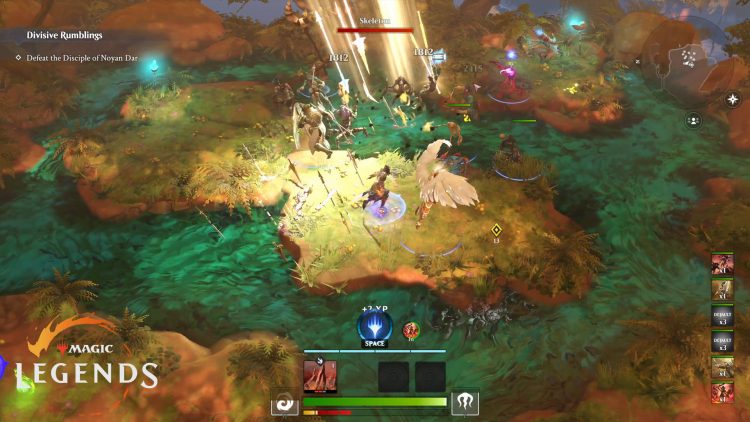 The Dimir Assassin abilities Forty Blinks and Blink Strike now have one second cooldowns during Dark Reverberations. Forty Blinks has also had its damage rebalanced to align better with other Spark Powers. The Sanctifier's Torrent of Radiance has also been aligned with other Spark Powers via a slight damage reduction. In addition to these tweaks, the Sanctifier received another small nerf with Angelic Descent's duration now reduced.
On the other hand, the Geomancer and Beastcaller have received some small buffs. The damage of the Geomancer's Obsidian Fist and Cataclysm have both been increased. Likewise, the Beastcaller's Beastial Fury benefits from a duration increase.
Along with the ability to unlock the Dimir Assassin for free, the Magic: Legends update also includes a load of bug fixes. If you'd like to check out the complete patch notes, you can do so on the Magic: Legends website. Steve Ricossa, the executive producer of Magic: Legends, also said that an even larger bug-stomping build is due to arrive in mid-April. We can all look forward to that.
You can also check out our preview of the deckbuilding action RPG to get a taste of the gameplay.