Square Enix and Crystal Dynamics are facing an uphill battle when it comes to the beleaguered Marvel's Avengers. While the game is definitely a decent experience, it has yet to make a significant impact on the market. That said, the team is not giving up just yet. In its latest War Table presentation, Marvel's Avengers announced the arrival of Hawkeye and Operation Hawkeye – Future Imperfect on March 18.
This follows the addition of another bow-wielding hero in the form of Kate Bishop. Clint Barton's story will take place in the present, but also give players a sneak peek at what could be an apocalyptic future. If you have already experienced the Kate Bishop DLC, then the setup for Hawkeye in Marvel's Avengers will make more sense.
For those who have followed the comics, Future Imperfect is definitely reminiscent of the Old Man Hawkeye series. In that particular spinoff, the world's heroes have been decimated by a collection of villains. Needless to say, the world is far from normal. Hawkeye was the only one spared, and it is he who has to avenge the fallen heroes in the end.
A twist
In Marvel's Avengers, however, Hawkeye is taking a slight detour. Old Man Hawkeye is retired, but not without regrets. The Kree invasion took place and he was not involved in the resistance, and he has been trying to make up for that ever since. That includes trying to seek out Nick Fury in the wastelands.
In a more recognizable time, younger Hawkeye is taking care of some business in Brooklyn. Expect to see the cameo of a few familiar characters, including Lucky the dog. As the name of the operation suggests, we will be going up against the supreme leader Maestro. The villainous Hulk first appeared in The Incredible Hulk: Future Imperfect #1 in December 1992.
Opening up the world
The addition of Hawkeye to Marvel's Avengers will bring the wastelands as a new region. There will also be more Villain Sectors and other missions thrown in for good measure.
As for the hero himself, Hawkeye is no slouch when it comes to ranged combat. Up close, he wields his sword expertly, as one would expect from Ronin. His Quickdraw Reflexes allows Hawkeye to avoid attacks and parry with a quick bow shot. Dead Eye adds additional damage and slows down enemies.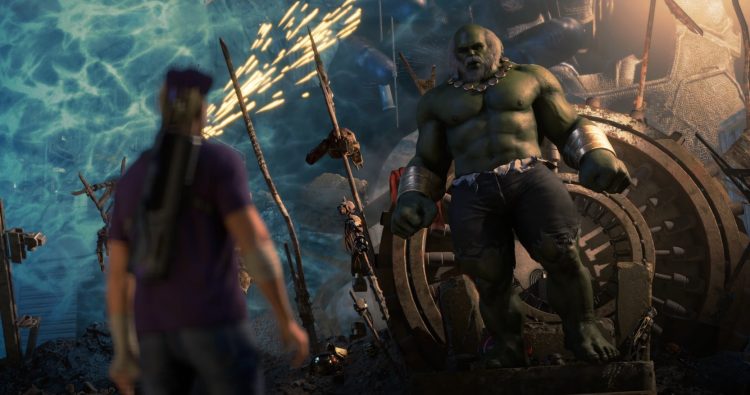 Perhaps more reflective of his character is the ten different arrow types available to Hawkeye in Marvel's Avengers. Players will be able to fire off Grapple Arrows, Boomerang Arrows, Implosion Arrows, Tripwire Shot, Rocket Arrows, Pulsar Arrows, Nightstorm Arrows, Recovery Arrows, and his Ultimate Heroic Hunter's Arrow.
The arrival of Hawkeye as DLC for Marvel's Avengers was not the only significant news at the War Table presentation. The PS5 and Xbox Series X/S versions of the game will also arrive on the same day.
Players will be able to play together through cross-generation play, and saves will be transferable between versions. The game will feature upgraded visuals and framerates, significantly improved load times, better destruction, and something called Heroic detail.