For fans of retro beat 'em ups, there's no shortage of modern titles for fighting fiends. The release of Streets of Rage 4, River City Girls, and others have marked a resurgence – albeit small – of retro-inspired brawlers. Mayhem Brawler brings a comic art style to the genre along with promises of "kick-ass soundtracks" to accompany your hooks and jabs. If this sounds up to snuff, then you'll want to mark your calendar for August 18 when Mayhem Brawler fully releases on Steam.
Mayhem Brawler is a new project for developer Hero Concept. With that, the team has developed its own unique cast of characters. You can play as Dolphin, Star, or Trouble. All three are part of Stronghold, which is a "super-powered law enforcement agency." As with other brawlers, it looks like the fate of the city is in your hands, and it's up to the heroes to slug it out and save the concrete corridors by heading straight to the streets.
Modes and more
It looks like there's more to Mayhem Brawler than just hitting the streets and beating up bad peeps. The game will have three different endings based on the choices that are made in-game. The developer states that player decisions can "alter the game flow," bringing a sense of depth to something like a 2D punch fest. However, if you're looking for an online multiplayer experience, it looks as though only offline three-player co-op will be supported. The Steam page for the game does list Remote Play Together as a feature, so, at least there's that. To further deepen your time on the city streets in Mayhem Brawler, the game will have a fully voiced script and support 11 different language options for subtitles.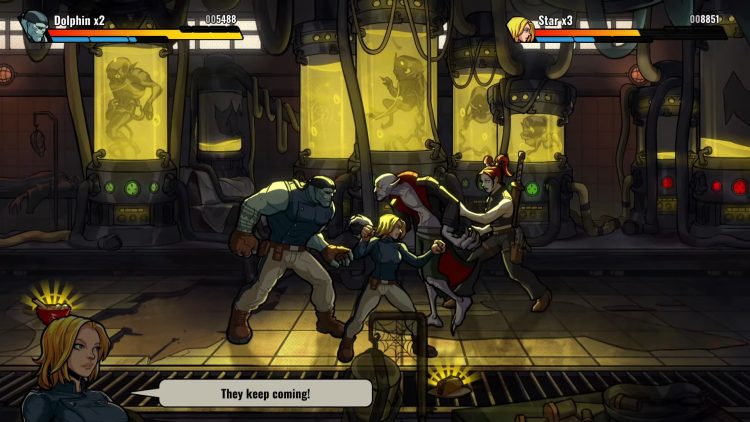 Upcoming Steam preview
Hero Concept is taking the announcement for the release date of Mayhem Brawler one step further with an upcoming preview session. The game will be part of the Steam Next Fest (June 16-22) and Xbox Summer Game Fest (June 15 -21). Although, it's unclear if the Xbox Summer Game Fest will include Game Pass Ultimate subscribers or be locked to the Steam platform. Either way, an early preview build will be available during (some) those dates and allow for three playable levels with two being selectable by the player. The preview build will have all features enabled, which is a plus if you really want to give it a spin-kick.
Mayhem Brawler launches on August 18. You can view its official Steam page and add it to your wishlist at this time. You can also check out the PC Invasion hands-on preview of the game from earlier this year.