Call of Duty: Modern Warfare content just keeps coming. Season One's launch added an immense amount of cosmetics to the game along with new maps, Reinforce game mode, two new weapons, and so much more. Now, Infinity Ward has added two more multiplayer modes to the game, Gunfight: OSP and Infected. Infinity Ward also added Aniyah Palace to Ground War and more Hardcore modes.
Gunfight: OSP
Gunfight: OSP (on-site procurement) is very much like the original Gunfight mode with a twist. In OSP, players do not spawn in with weapons, but don't worry, you won't have to Mike Tyson your way out of this one. Weapons and equipment are placed throughout the map and can be picked up by players. It's almost like a fast-paced, mini battle royale mode. This seems like it will be good fun but also offer a different take on skill gap and competitiveness in Modern Warfare. This mode won't rely on shear gun skill, but more so on predicting what your opponents will go for versus what you are going for and setting up accordingly. Naturally, a meta is going to form around this looting system in the mode.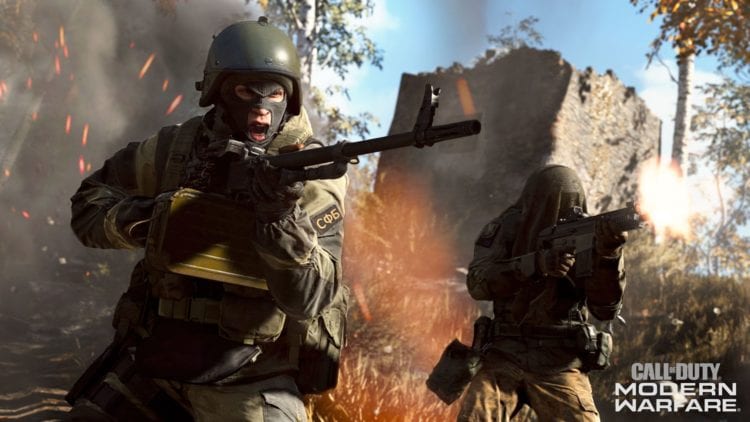 Infected is back
Infected is a classic Call of Duty game type that we have seen in almost all recent titles. It is a mode where one player spawns in as a zombie and must infect the players in the lobby. Once a player is killed by the infected, they become one and seek out the remaining survivors. The zombies only have a knife.
While I am happy to see Infected make its way back, it saddens me that it replaced Reinforce. I can understand Gunfight: OSP replacing Gunfight because of their similarities, but Infected and Reinforce aren't even remotely alike. Reinforce is a brand new mode in the Call of Duty series and one that needed to cement itself if it hopes to be more than a limited-time mode.

New Ground War map
Modern Warfare recently added a new Ground War map in Port. Now they have also put Aniyah Palace in the rotation for Ground War maps. It's kind of amazing to think that we were playing 20-man modes on the map before this update, and now it's being recognized as the gargantuan that it is. Running across Aniyah Palace looking for people or chasing headquarters isn't one of my fondest memories, but I think it will do well in Ground War.
Hardcore gets love
Fans of Hardcore in Call of Duty: Modern Warfare will be dancing in celebration after today's update. Hardcore was missing some core playlists that players really wanted to enjoy, and now they will be able to. NVG Moshpit, FFA, and Shoot House 24/7 have been added to the Hardcore rotation. Now, fans of Hardcore won't feel left out or like they must play core modes to get the full Modern Warfare experience.