The hype for Modern Warfare Season 4 cannot be overstated after fans had to wait longer than expected. Activision made the choice to delay the Season 4 expansion to show respect to the ongoing Black Lives Matter movement. Well, the wait is now over. Today's patch notes reveal perhaps the largest expansion to both Modern Warfare and Warzone so far.
For in-depth descriptions, make sure to check out the official patch notes on Infinity Ward's website. There's a lot to cover, as reflected in Season 4's hefty download size. PC players are looking at anywhere between 45GB and 80GB, depending on your luck. This is because Infinity Ward is using this patch to compress several existing assets to decrease Modern Warfare's overall size.
Modern Warfare's new guns
As with every other season, you'll find two new guns to unlock, the Fennec SMG and CR-56 AMAX assault rifle. The former is a rapid-fire PDW based on the real-life Kriss Vector, a gun Call of Duty fans should be familiar with. It has previously appeared in Modern Warfare 2, Modern Warfare 3, and Ghosts.
As for the CR-56 AMAX, it is based on a modern 7.62 caliber military rifle, the Galil ACE. It serves as a newer rendition of Call of Duty: Black Ops' iconic Galil, arguably the most popular gun in that game's multiplayer. You can expect this to be another slow-firing but hard-hitting rifle for players who favor precision. A third, unannounced gun will likely follow later in the season.
And those aren't the only weapons that Infinity Ward has prioritized. Every existing weapon in the game is now eligible for a ton of new specialist challenges. These are symbolic of the Modern Warfare 2 gun challenges that unlocked signature calling cards and emblems to show off with. Now, each gun has two skill-based challenges and two headshot-based challenges.
Warzone gets even crazier
Infinity Ward hasn't overlooked Warzone, though. This update brings plenty of new content and quality of life improvements. Regarding quality of life, the new 50-vs-50 Warzone Rumble deathmatch mode should make leveling up guns far easier for free-to-play users.
Otherwise, three new random match events should help stir up Warzone's previously slow mid-game. These are Jailbreak, Fire Sale, and Supply Chopper. Jailbreak releases all dead players who lost in the Gulag back into Verdansk after a one-minute warning. This should encourage players to stick with their team rather than leave the game as soon as they die.
Fire Sale should be recognizable for any Call of Duty zombies fans. The power-up first appeared in Kino der Toten. Its impact in Warzone is similar, as it decreases the cost of Buy Station items by up to 80%. There is even a small chance that it will make everything free instead. That means you can expect a lot of resurrection, UAV spam, and fights over Buy Stations.
Finally, Supply Chopper calls in a heavily armored A.I controller helicopter to patrol Verdansk. It won't fight back but will require multiple rockets and bullet spam to take it down. When a team finally destroys it, they will be rewarded with a ton of loot including UAVs, munition boxes, gas masks, cash, armor boxes, and the MGL-32 grenade launcher.
Contract hunters have even more to play for now, too. This expansion adds the Contraband contract, which has a random chance to drop after completing any regular contract. It requires you to take contraband to a helicopter pick-up site. Once delivered, you and your squad will be rewarded with a pre-specified gun blueprint to keep.
Season 4 Battle Pass and maps
As expected, the new battle pass introduces several new gun blueprints to unlock. Personal highlights include the MP7 Harpy, PKM Sunset Hue, VLK Rogue One Inch Punch, and Vector Silver Fox. The new CR-56 AMAX also receives a unique blueprint, the Emissary, which will unlock at Battle Pass level 100.
Sticking with the nostalgia theme, this Battle Pass will let you unlock Captain Price as a playable character. You can either use his signature bucket hat look or his newer "going dark" trailer appearance unlocked at Battle Pass level 100. The Season 4 Battle Pass will last just short of two months and can be purchased for 1000 CoD Points.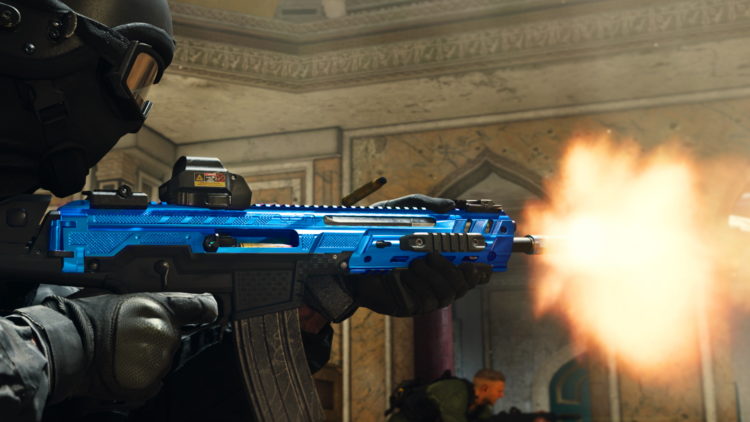 Last but not least, this update brings the long-overdue Scrapyard map to the core multiplayer. Both it and a Scrapyard 24/7 playlist are now available. Scrapyard already featured as both a part of the Verdansk battle royale map and the Zhokov Boneyard Ground War map.
If all this sounds appealing, you can download Warzone for free or buy Call of Duty: Modern Warfare on Battle.net for $59.99.