With so many foes to eliminate, your Rider will eventually have lots of materials and resources. The blacksmith can aid you with the stuff you've amassed so you can progress further. Here's our Monster Hunter Stories 2: Wings of Ruin crafting guide to help newcomers with tips regarding forging and upgrading items.
Note: For more information, check out our Monster Hunter Stories 2: Wings of Ruin guides and features hub.
Monster Hunter Stories 2: Wings of Ruin crafting guide – Forging and upgrading items
The blacksmith NPCs in Monster Hunter Stories 2: Wings of Ruin all sell default gear pieces. These cost 1,000 zenny (gold) and they're next to useless once you've made it past the Hakolo Island in the game's first chapter. At best, you'll want to focus on forging and upgrading new equipment. For these, you'll need materials that are dropped by enemies.
Naturally, the score that you receive at the end of each battle determines the loot that you'll get. The higher the score, the more stuff you can pick up. Breaking or utterly destroying various body parts of large enemies also helps. It's even better once you've out-leveled some mobs so you can use the "Quick Finish" mechanic to obtain instant S ranks.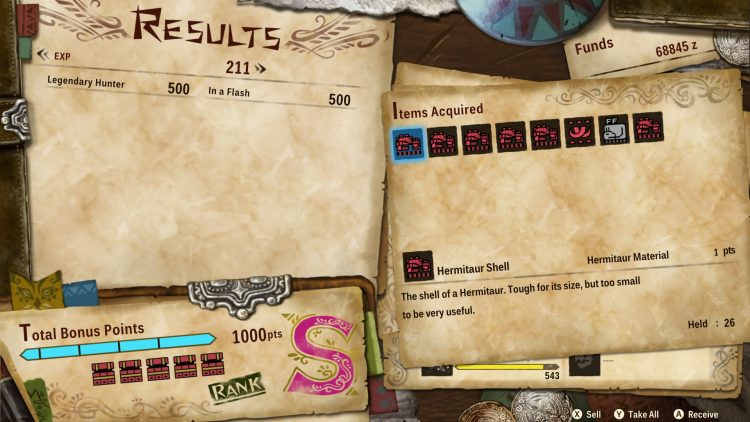 If we're simply talking about forging, then the materials you receive will be more than enough to get by. At best, you'll only need six points in total from a combination of materials dropped by a specific mob. Here's an example:
Common drop – One point.
Uncommon drop – Three points.
Rare drop – 10 points.
Note 1: You'll want an S rank for the rare "FF" pieces even if they're not guaranteed rewards.
Note 2: Later, you'll notice that certain weapons and armor pieces would require secondary materials (i.e., ores or components from other enemies).
The same concept also applies to upgrades. A vast majority of the equipment you buy, pick up, or craft will have two upgrade levels. The base materials from that enemy will be required alongside an extra resource. The choice is yours on whether you'd stick with the items that you have (maybe upgrading will be better if you've got more mats) or if you'll forge better alternatives.
The good news is that the tough opponents that you encounter earlier in a chapter would become regular mobs down the line. For instance, more Anjanaths can be found in chapter 3. That means you'll have additional opportunities to farm for a specific gear piece.
Note: Another source of good equipment is the Melynx Inc. shop. However, these require bottlecaps as a currency, and you might want to spend these on stable/co-op/expedition upgrades first.
---
Monster Hunter Stories 2: Wings of Ruin is available via Steam. For more information, check out our guides and features hub.