Monster Hunter World is trying to stay true to fans' expectations by constantly releasing new content. We've got a Witcher III crossover coming early next year, the appreciation event, and recently, the announcement of the Iceborne expansion. And now, apparently, an Assassin's Creed crossover event is already here, at least on consoles.
Of course, the event will eventually come to PC; there is no reason it wouldn't, considering Assassin's Creed games have mostly been on PC as well. But, this "later date" announcement for PC players is nothing new. Capcom isn't known for their PC development or quality ports, and Monster Hunter World is genuinely one of their best attempts at a long-running PC online service. But, it's still far from perfect.
Just Like Most Other Monster Hunter Crossovers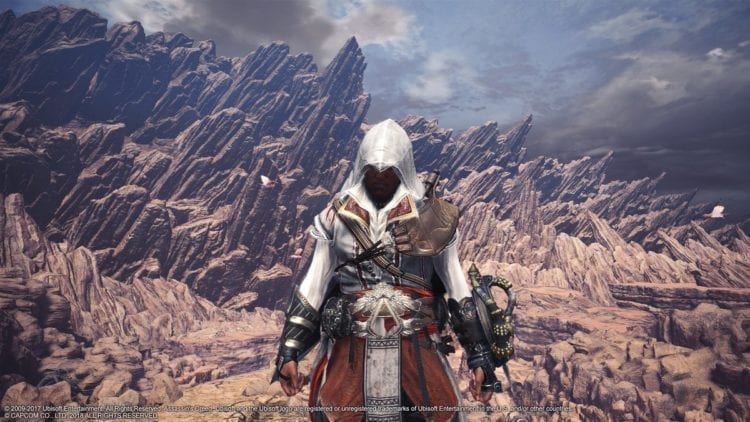 I didn't expect Assassin's Creed to crossover with Final Fantasy XV, and I sure didn't expect this either. In any case, the Assassin's Creed crossover is pretty standard. It has some unlockable outfits that make your hunter look like both Ezio Auditore from his three different games and Bayek from Origins. To nab these outfits, simply complete the "SDF: Silent, Deadly, and Fierce" quest a couple of times to get some Senu Feathers.
You can trade these feathers in for either Ezio's Hood or Bayek's Layered Armor. Of course, Layered Armor means you can wear it over any other Armor Set without affecting the equipped skills or stats. Ezio's Hood, on the other hand, has a couple of cool effects. It boosts your damage when attacking from a stealth state and speeds up both running and climbing.
The Hood Is Good
[PS4/X1] Equip the Assassin's Hood to dish out staggering additional damage to monsters when attacking from a stealth state!

Complete the event quest "SDF: Silent, Deadly, and Fierce" to unlock this handy new @AssassinsCreed mantle in #MHWorld. pic.twitter.com/44VftokrEy

— Monster Hunter (@monsterhunter) December 29, 2018
Honestly, the hood is something I've wanted in Monster Hunter World since release, not simply because Ezio is great and the Assassin Hood is an icon, but because speeding up running and climbing is so convenient. In the late and post-game of MHW, you'll end up hunting easy monsters over and over. Anything that speeds that up is a godsend.
So what about you? Did this event come out of nowhere, or is it just me? Are you excited to grab these armors? Which upcoming event/DLC are you most excited for? Let us know in the comments down below.