Although Capcom has been taking its sweet time releasing content for Monster Hunter World on PC, the recent Developer Livestream showed there is plenty of stuff coming. The most exciting announcement was a reveal trailer for a brand new expansion called Iceborne.
The expansion seems to hint at an entirely new winter wonderland map (as does the word "Iceborne"), as well as a continuation of the main plot involving the Elder Dragons. Iceborne has been slated for autumn 2019, and apparently, that is about all the info they're willing to share. At this time, we have no idea whether it is releasing simultaneously for consoles and PC, in what month, or even the price of the expansion.
However, I'd bet it's coming to consoles first and PC players will get it 5 months later. Personally, I hate the disconnect between PC and console players with this game. Maybe things will change this time, but I'm not getting my hopes up. Capcom has always been vague and unenthused about the PC players, even with the port in general.
Reveal Impressions
My personal grievances aside, Iceborne looks to be a pretty large addition to the main game. Of course, we are talking about a game that has hundreds of hours of content here. An "addition" could mean anywhere from thirty to three hundred hours.
Unfortunately, Capcom's reveal trailer is vague and leaves much to be desired in terms of context. It sits at 114 seconds long, with about 80% of that being a standard Rathalos fight. Towards the end, the Rathalos bails on the fight and flies towards the new ice biome. And that's where the trailer comes to an end. Alas, while the tagline promises new monsters, equipment, moves, and quests, we'll have to wait to see any of it.
It certainly leaves me wanting more. I know, I know, the poster monster for Monster Hunter is a Rathalos. But I really would have loved to see a fight with an ice-based monster like Legiana.

Plenty Of New Monsters On The Horizon
Capcom has stated that the expansion will be the size of "previous G or Ultimate installments," which is promising. If you're not a longtime fan, that basically means tons of new variants and monsters.
Monster Hunter World is a great, streamlined way for new players to get into the franchise. But it also has a glaringly obvious lack of monsters compared to the other games. The new engine and graphics meant that Capcom couldn't just bring the models and animations over from the last game like they usually do. Additionally, Capcom didn't want the weirdo monsters to freak new players out, so most of the base monsters were in the "wyvern" class. As such, fans have been dying for an expansion with their old favorites.
Frankly, there's a gigantic backlog of monsters in past games Capcom can include. Just to name a few, there are freaks like the Gigginox, more digestible yet terrifying beasts like the Nargacuga, or even my absolute favorite fluffy monstrosity, the Lagombi.
Updates Coming To Hold You Over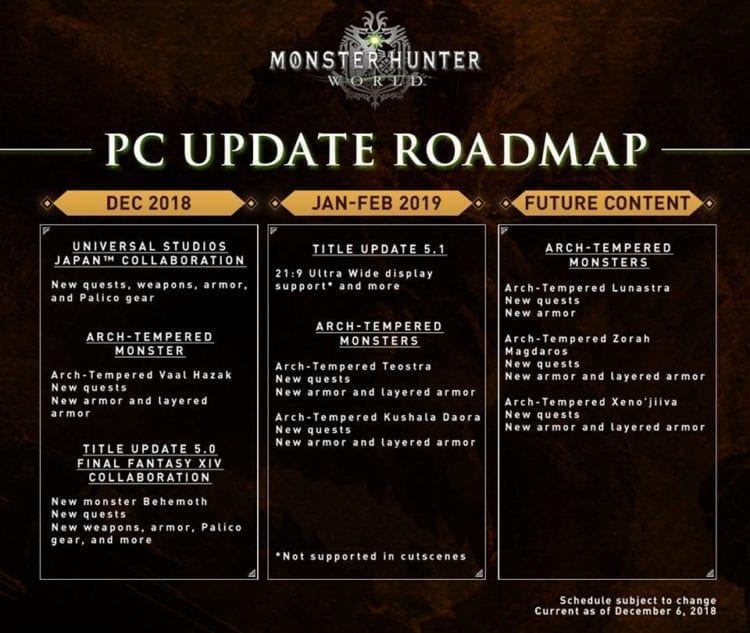 This is all to say that there is a lot of potential with this expansion. With it not being available for more than half a year, I think it's safe to bet Capcom is working to meet our expectations. And while we wait for Iceborne, there's plenty of content coming to all platforms to hold us over.
First, Behemoth hits PC on December 21. Then there are new Arch-Tempered versions of Kulve Tarroth and Nergigante, the Appreciation Fest, and amazingly enough, even a Witcher III crossover event later in the new year.
Honestly, there is a lot of content to digest, so I'd recommend watching the live stream VOD. Sadly, these are all announcements made for the console versions, with PC players being an afterthought. We'll get the events, just much later.
Free Trial Available Soon
Lastly, if all this new content on the horizon interests you, there's a free trial available! From Tuesday, December 11 to Monday, December 17, you can download this "trial" version of the game. It allows you to play everything in full up until Hunter Rank 4. That doesn't seem like too high of an HR for a trial. But, remember that is most likely 5-10 hunts and 40+ hours of content.
You can also play with your friends that do own the game! But the announcement is unclear if this trial is on all platforms or just PC/consoles. However, players will be able to transfer this save data to the full game if they end up purchasing.
What do you guys think of the reveal? Are you excited for Iceborne? If so, tell us what monsters you'd like to see! And what are your thoughts on the PC vs console release windows? Let us know in the comments below.