Immortals Fenyx Rising started off as an adventure all about Greek mythology and fantasy, but Ubisoft is about to take things to new lands in the upcoming expansion. Better yet, Myths of the Eastern Realm is on track for its scheduled release window, as the content will hit digital shelves on the date of March 25.
There's still a lot we don't know about the adventure, but things are clearly inspired by Chinese culture and ancient legends. We should be in for an authentic experience too, as Ubisoft Chengdu is leading up the development. That particular city is situated in the west of China, just shy of Tibet. It's a city with a long history of its own and a distinct subculture, so there are sure to be some interesting sights to see in-game.
Ubisoft advertises that a new hero with a new story awaits. We've known as much for a couple of months, but the details are slowly trickling out. We'll take on the role of Ku, who is sure to go up against some beasts and demons, just to name a few potential foes. There's still no gameplay, but the new cover art gives us a look at the new hero along with a legendary beast that looks gorgeous.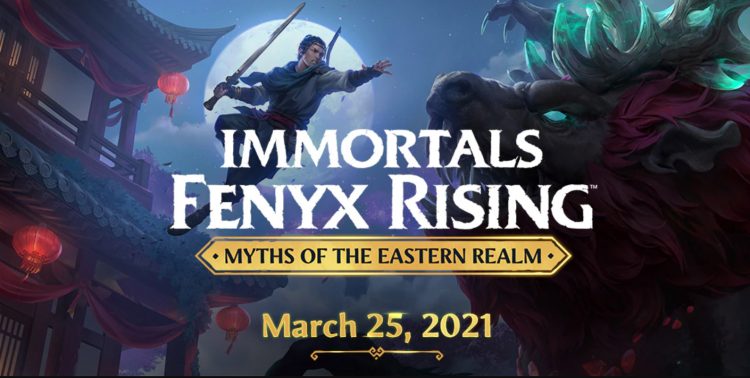 Prepare for a new experience
Myths of the Eastern Realm looks like the kind of expansion that could stand on its own. That doesn't sound like it will be the case though. Based on what Ubisoft has said about the content, you'll need the base game as well. That's not exactly a bad thing though, as our review praised Immortals Fenyx Rising in many ways. Once you have the base game, you can either opt for the Season Pass, an Ubisoft+ subscription, or buy the DLC individually. The price for the standalone purchase has yet to be determined. Seeing as how we have the release date for Myths of the Eastern Realm though, more information should follow soon.
In the meantime, you can check out a new quest in the base game that will present you with an award within the DLC. Check out the We Are Not Alone quest on the southwest end of the map. You'll need to complete two platforming challenges to recover red Agate and a gold dragon. You'll then return the items to the land from which they came via a portal. Unfortunately, you cannot enter that portal. You'll make someone very happy on the other side at least.
Once Myths of the Eastern Realm releases, you can check back for our thoughts on it. We also previewed the A New God DLC, so you can know what to expect in exchange for your hard-earned cash.