Minecraft has been nothing but a revelation since its debut way back in 2009, allowing players to fully realize their creative visions and having plenty of blocky adventures both above and underground. The world is literally your oyster, as you are free to build what you want and how you want. Now, a new frontier awaits as a new Minecraft Star Wars crossover has been revealed.
Now available on the marketplace, this new Minecraft Star Wars mash-up will bring both characters and locations from the original movie trilogy. It even includes the latest content from The Mandalorian. Players can now explore even more new places, become somebody else, and discover new ways to enjoy the game.
This new content will hopefully become a foundation for even more galactic-worthy creations. The unfamiliar worlds have lots to be discovered, and the possibilities are quite endless. It is definitely a goldmine of content for players to get into, and there is bound to be plenty of awesome creations just waiting to be unleashed in this new galaxy.
Possibilities aplenty
Just thinking of A New Hope, The Empire Strikes Back, and Return of the Jedi already brings back nostalgic memories. Add in The Mandalorian, and this Minecraft Star Wars crossover has it all. Yes, there is even a voxel Baby Yoda, what's not to love? Perhaps the voxel Jabba is more up your alley. Either way, you will be all set.
The 12 different planet dioramas, skin pack, the map, and the official soundtrack will be well worth the investment. You will be able to step into the Death Star, Mos Eisley Cantina, the Ewok village, Hoth together with AT-AT walkers, Jabba's palace, and even Tatooine.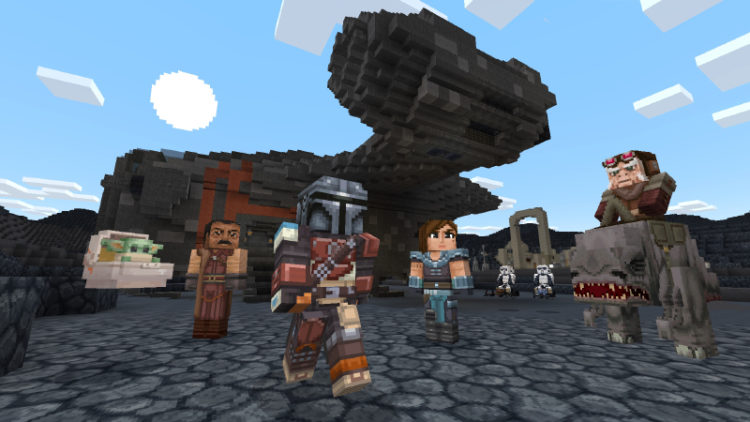 This Minecraft Star Wars DLC will set you back 1300 Minecoins. That translates to roughly $5 that will be well spent. It is time to step into a galaxy far, far away.