One of the best JRPGs to release in recent years is finding new life on Steam. Octopath Traveler originally released on the Nintendo Switch back in July of last year and received wide praise from many players and reviewers.  The game is revered for having beautiful 2D characters and objects on a 3D plain. The boss battles are unforgiving, while the music is unforgettable.
We've known since April that the game was being brought over to Steam on June 7, but Square Enix finally opened up pre-orders for the game earlier today. You can find Octopath Traveler's Steam pre-purchase options over on the store, listed for the original sale price of $59.99. Anyone who prefers the classic controller interaction of JRPGs from back in the day can take advantage of the full controller support.
Those who pre-order the game will receive 11 different wallpapers, all of which feature the hand-drawn art style seen in the title's promotional images (which you can see below). I have to say, if these were wall posters, I would definitely hang them all over my abode.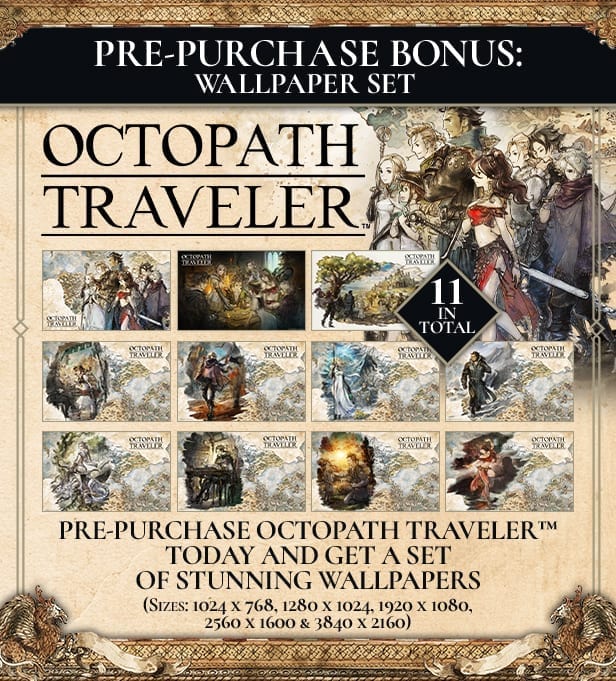 Eight paths in one game
Octopath Travler draws heavy inspiration from JRPGs released the Golden Era of the genre (around the time of Chrono Trigger, Final Fantasy VI, and Terranigma). The game utilizes a traditional turn-based combat system. However, it adds in the ability to charge up your attacks to deal more damage and break down an enemy's defense. Doing so leaves them unable to protect themselves.
Interestingly, the game doesn't focus on a single overarching plot. Rather, the main focus lies in the individual stories of each of the eight characters. Some are stories of redemption and revenge, while others are simply about discovering who they are. Each of these tales could very well warrant their own game. Head on over to Steam for more info on the game.